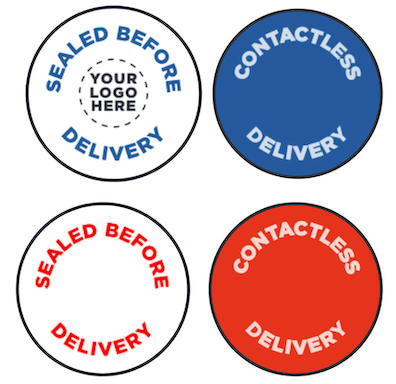 As the world faces the COVID-19 outbreak, businesses have been forced to adapt to the new normal- social distancing. Thousands of restaurants nationwide have closed their dining rooms and resorted to take-out and delivery. These new guidelines, although they are implemented to slow down and stop the spread of COVID-19, bring difficulties to restaurant owners. Ease your customers anxiety of transmitting the virus by implementing and marketing "Contactless Delivery" and "Sealed Before Delivery."
What is contactless
& sealed before
delivery?
Contactless delivery means orders are placed anywhere a customer wants for a safe and healthy pickup. Once a customer's order has arrived, the delivery person places the order on a "safe and clean surface" and stands back a safe distance until the order is picked up. Similar to contactless delivery, sealed before delivery applies to those restaurants who use a third party delivery service.
Importance
of contactless
& sealed before
delivery labels
We are all on high alert during this difficult time, by practicing and stating your restaurant practices contactless delivery, your customers will be more inclined to order food from your restaurant. As this pandemic continues to grow, customers will avoid those restaurants who are not practicing contactless delivery. Make sure you customers know you are doing this by applying a "Contactless Delivery" or "Sealed Before Delivery" label on all your take-out and delivery orders. These labels can go over folds in bags, joints in boxes, or wrappers.
Avoiding person-to-person contact, relieving customer's anxiety and welcoming repeated business are some of the many benefits of introducing contactless and sealed before delivery labels on all your orders.
Order Your
Contactless and Sealed Before Delivery
Today
As the Coronavirus pandemic prolongs, this contactless delivery technique will surely stick around and will continue to grow. SunDance has you covered. We have produced generic "Contactless Delivery" and "Sealed Before Delivery" labels in a variety of colors- red, blue and orange. You also have the option to customize these labels by adding your own company logo- we have templates set up ready to print! Providing deliveries without physical contact will allow your customers to trust you and welcome repeated business.
Contact us today or request a quote to order your "Contactless Delivery" and "Sealed Before Delivery" labels.