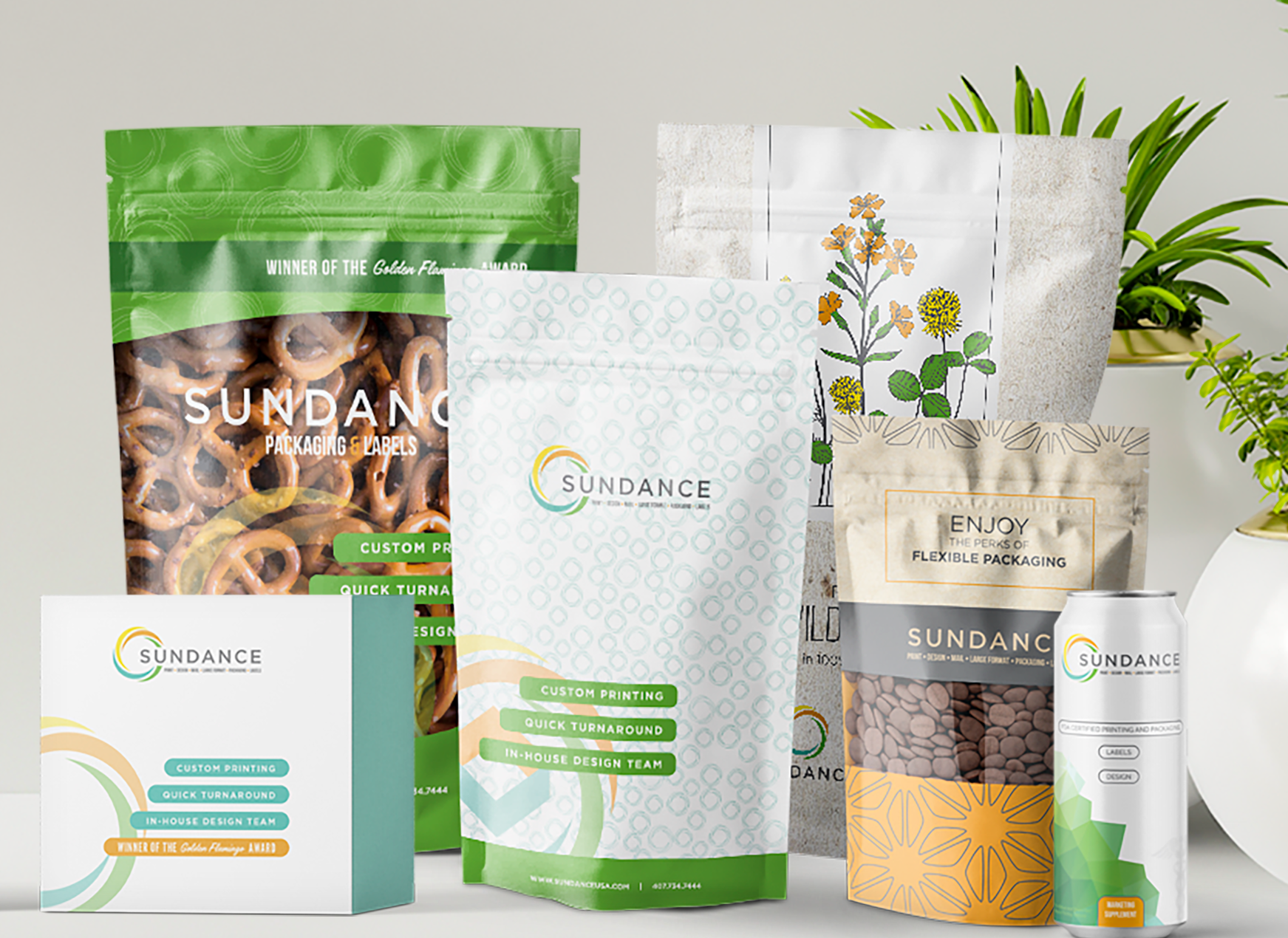 Product marketers and package designers have been shifting away from rigid packaging, much of which ends up in landfills. With increasing frequency, they're opting for flexible packaging, including recyclable pouches and other soft packages. We're delighted to witness this movement and completely support it.
What Exactly Is Flexible Packaging?
Before we explore the many flexible packaging benefits, let's clarify what we mean by flexible packaging. The Oxford Dictionary defines flexible as "capable of bending easily without breaking." Synonyms include pliable, elastic, malleable, and supple.
Flexible packaging has several distinguishing attributes. First, it is created through the use of flexible materials, which may include papers, plastics, films, and foils. Second, its shape can change when the package is filled, and change again as it is emptied.
While rigid packaging includes glass jars, plastic clamshells, cardboard boxes, plastic bottles, and aluminum cans as a few examples, flexible packaging generally comes in the form of flexible pouches and bags that can be produced in virtually any size and shape to suit their intended product.
Between 2016 and 2020, the highest-growth uses of flexible packaging, according to the Flexible Packaging Association, were chilled soups (21.5%), liquid soap (18.2%), and shelf-stable fruits and vegetables (16.8%). Today, flexible packaging for food constitutes 63% of the total flexible packaging market. Medical and pharmaceutical uses, personal care products, beverages, and industrial products are also popular applications.

Flexible Packaging Benefits are Numerous and Inspiring
There are as many reasons for choosing flexible over rigid packaging as there are dishwasher soap pods in a flexible pouch. Following are some of the most compelling flexible packaging benefits.
Less Landfill Waste. Flexible packaging offers many more opportunities to use recycled and recyclable materials. Today, 88% of flexible packaging is recycle-ready, and 63% is post-consumer recyclable, according to Flexible Packaging Association data. Post-consumer means it's created from materials that have been recycled once already.
Cost-Efficient. Flexible packaging consumes less energy, including water, during its production, and generates fewer greenhouse gases during transportation. Because flexible packaging can take on the shape of its contents, there is less wasted space. And because it is lightweight, it is more cost-efficient to transport and distribute.
Product Protection. Flexible pouches and other flexible packaging can use multilayer construction that is strong and seals that are airtight. These features protect perishables like foods, medicines, and vitamins by keeping out air, light, and moisture. They can also extend the shelf life of perishable products—one reason 63% of flexible packaging is created for food. The strong multilayer construction also prevents tearing during transit and shelving.
Consumer-Friendly. Flexible packages and pouches are easily portable, unbreakable, and lighter weight than rigid packaging options, making them more convenient for consumers. Resealable pouches allow contents to be consumed over time, remaining fresh without product degradation.
Unlimited Shapes. Shape is one of the leading flexible packaging benefits. A remarkable array of features and options, including gussets, folds, and seals, enables flexible packages to be designed for products of virtually any shape. These features also enable pouches and bags to stand up or lay flat, based on marketing display preferences.
Versatile Closers. A wide range of closure options offers the ultimate in versatility, from the well-known press-to-close zipper to the plastic spout used for juice and soup pouches. Sliders are super-easy on adult fingers. Plow sliders prevent granular products from clogging the closing track. And child-resistant closures keep little fingers from opening packages they shouldn't.
Design Versatility. Flexible packages, especially pouches, give graphic designers more design control with the ability to position artwork and copy virtually anywhere. Using crisp digital printing and vibrant colors enhances copy and imagery to create memorable product packaging. Digital printing also enables variable data to be changed on the fly, including SKUs, expiration dates, and other customization.
How We Deliver the Goods
In the competitive consumer package goods industry, being able to mix and match the many features of flexible packaging delivers countless options for creative brands. Consider what you could do with a unique 3-sided pouch with two metallic sides and a clear front that displays pouch contents to excellent effect. Or a pouch that resembles Kraft paper for a popular retro look. With flexible pouches your options are virtually unlimited.
The SunDance packaging plant leverages state-of-the-art pouch packaging equipment that accommodates recycle-ready polyethylene, laminated films, biofilms, paper-like films, and foils to provide you with a complete spectrum of options. Along with exciting choices of closures, gussets, and seals, our versatility gives you the freedom to create the perfect pouch for every product in your line.

All the Services You Need Under One Roof
At SunDance we continually reinvest in our business by adding new capabilities and adopting innovative technologies, always with a focus on sustainability. Our objective is to constantly enhance the services we provide so that our clients have everything they need, and more, under one green roof. We have the facilities and expertise to produce flexible packaging that can showcase your products, ensure their protection and security, and provide for child safety as well.
Contact us to learn More About Flexible Packaging Benefits!