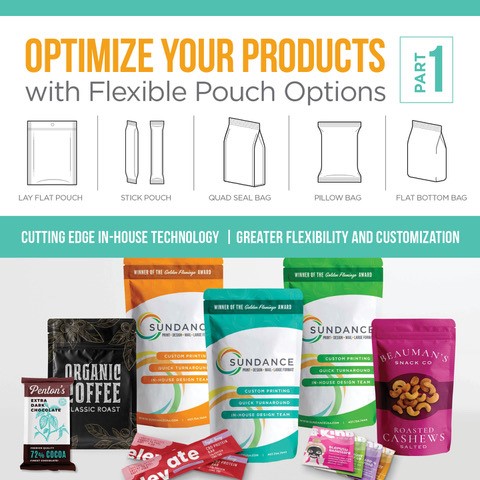 Countless flexible pouch options are available to optimize your product marketing efforts. This two-part article will help you understand the options by describing the various parts of a flexible pouch, what they are called, and what they do. We begin with pouch styles and gussets in Part 1 and finish with pouch seals and closures in Part 2.
Types of Pouches
When you decide to take a new product to market, one of the first decisions you'll make is what type of packaging to use. The decision is primarily driven by the various properties and requirements of your product. Dominating the flexible packaging category, there are three main types of flexible pouches.
Stand-Up Pouch. The stand-up pouch is by far the most popular form of flexible packaging, for many reasons. This pouch features bottom gussets that enable the pouch to stand up on its own when filled with your product.
Flat-Bottom or Box-Bottom Pouch. As its name implies, this pouch sits on a completely flat bottom, and usually has side gussets to provide structural support. They also help balance the pouch when it's filled with small loose product, such as rice or coffee beans.
Lay-Flat Pouch, 2-Side-Seal, or 3-Side-Seal Pouch. The lay-flat pouch may also be known as a 2- or 3-side-seal pouch. It is cost-effective because it uses no gussets and therefore a minimal amount of material. Lay-flat pouches are generally paired with resealable zippers and are useful in packaging snacks or treats with low serving counts and products that won't be damaged if flexed or bent.

Now we know there are three main types of flexible pouches, two with and one without gussets. So, what are these gussets, exactly?

Types of Gussets and What They Do

A gusset is a structural element of many flexible pouch options. It uses additional pouch material to create more space inside the pouch and strengthen the pouch structure. Gussets fold inward, and when the pouch is filled, they expand outward to hold the product. Gusseting is generally done on the bottom or on the sides of a flexible pouch. There are four common types of bottom and side gussets.
Side Gusset. Side gusset pouches feature the additional material on the sides of the pouch, rather than on the bottom. When filled to capacity with certain products, such as coffee or rice, the sides will push outward completely for maximum container volume. Side gussets can also be used effectively for products such as candy and popcorn.
Skirt Seal. This popular bottom gusset is sometimes called a K-Cut, K-Style, or K-Seal Bottom. The bottom of the pouch is shaped roughly like the letter "K" angled up and inward. A rounded fold at the bottom of the pouch expands to accommodate contents. This gusset creates crisp, uniform edges around the perimeter of the pouch. Skirt seals are recommended for light-weight products.

Plow-Bottom Gusset. In this gusset style, a folded edge replaces a bottom seal. This configuration is popular for granular contents, such as sugar or grains, since there is no bottom seal that might allow product to sift out. Content weight causes the bottom to flatten so the pouch stands up on its own.
Doyen or Round-Bottom Gusset. This gusset features a curved or oval shape on the bottom edges, which reinforces a large area of the pouch and enables front and back panels to be sealed to the bottom gusset. This style is useful for heavy products and liquids because the U-shape prevents pressure-point failures that a more angular K or W shape might experience.

Learn More About Flexible Packaging

SunDance continues to expand our flexible pouch options to help product marketers and package designers optimize their products. We have a long-standing commitment to sustainability in our printing and packaging processes and earn annual printing and packaging honors at the prestigious Florida Print Awards. Learn more during a tour of our state-of-the-art facility in Orlando, Florida.