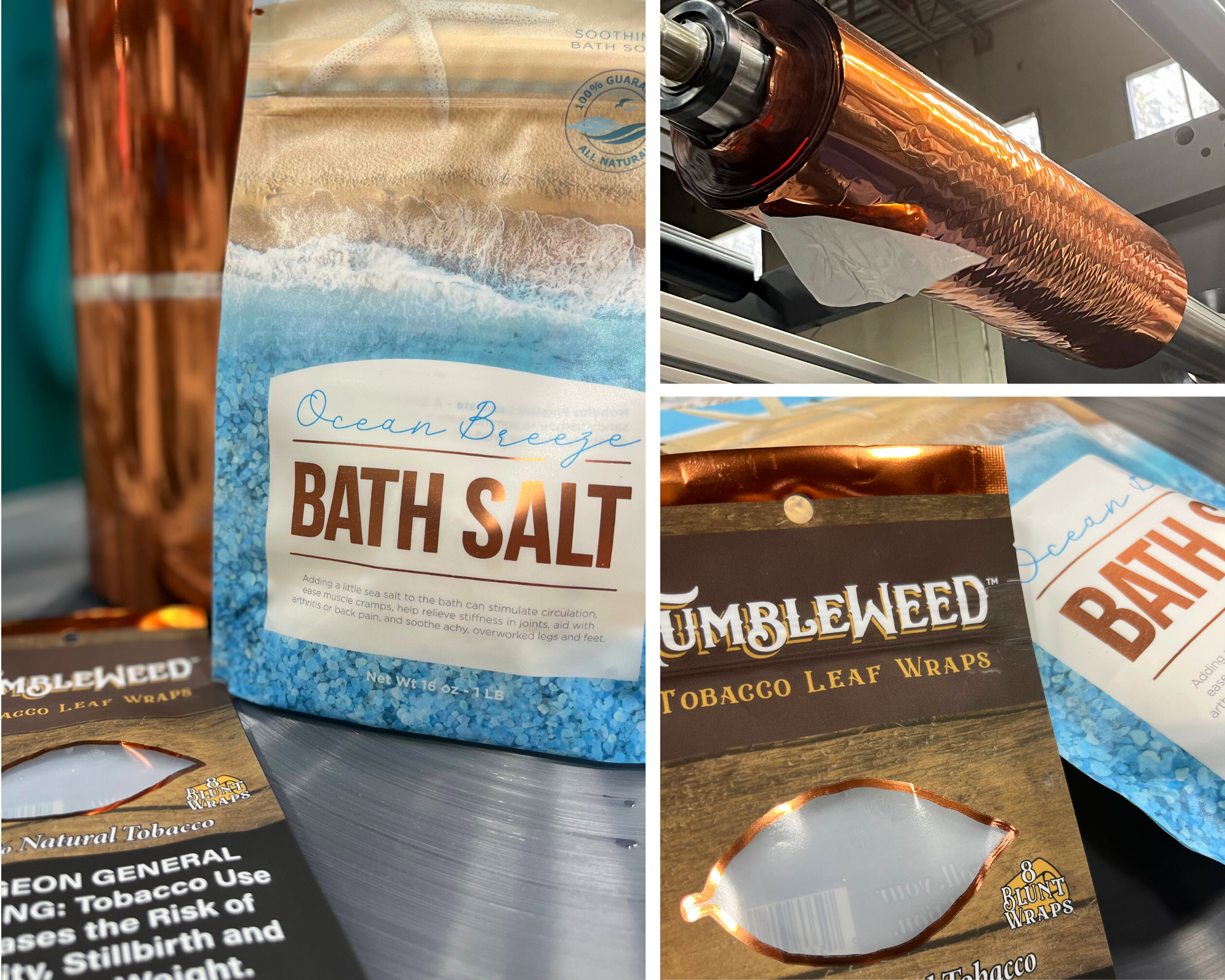 Flexible packaging is increasingly about pouch packaging. That's because flexible pouches can accommodate a wide variety of products, ship them securely, and display them impressively on store shelves. Pouches offer numerous options for interesting shapes, folds, openings, and closures, as well as printing in a full spectrum of colors, including images and text.
Once you've designed your flexible pouch and selected from these options, is that it?
To the less imaginative it might be. But there is final creative step that can make a world of difference in your flexible packaging. It's known as finishing. In the same way that you'd finish an appealing dish with a great sauce, for example, you want to finish your pouch with a memorable final flourish. Finishing will give your pouch pizzazz—and serious competitive advantage on the shelf.
Types of Flexible Pouch Finishes
Like pouches themselves, flexible pouch finishes come in many types. Options range from cold foils to holographic effects. From spot colors to spot matte or gloss varnishes. These can be applied to virtually any flexible pouch, including die-cast pouches with unique shapes. Let's take a brief look at these four popular options and what they can do for your packaging.
Cold Foils
Sometimes known as cold foil stamping, cold foil printing is a technique that prints metallic foil on a substrate (the main skin or primary layer of your pouch) to enhance the look of the final package. Cold foil printing is generally a wet lamination process in digital printing. In offset printing it is typically a dry lamination process.
Using a standard printing plate, an image is printed onto the substrate with the use of a cold foil adhesive. A dryer sets the adhesive, making it tacky to the touch. Foil placed over the skin then adheres to it, producing an image with a bright foil surface. No expensive die stamp is required since the adhesive is applied right on the press like conventional ink. And the process is fast and efficient due to the use of printing plates rather than foil stamping tools. Once this process is complete, the surface of cold foil images can be varnished or laminated to protect the images and create a strong, durable package.
Holographic Effects
Holography is an increasingly popular technique that creates the appearance of three-dimensional images. Our process uses a special film with a micro-embossed holographic pattern. Once a varnish is applied to the substrate, the holographic film is laid over the varnish and run through a dryer to be set or cured. When the film is removed, the holographic effect remains on the substrate. With our process, holographic patterns can be placed directly on top of printed images the same way a spot color would be utilized, producing eye-catching effects. This process can also be used in adding anti-counterfeiting and other security features.
Spot Color
Spot colors are solid colors that are created from premixed ink according to the globally accepted Pantone Matching System (PMS). Pantone colors are standardized, with every color assigned an individual PMS number and name. Use of this system guarantees that the colors a package designer specifies will be the colors that are printed on your flexible pouch.
Spot color is vital to honoring your company's style guidelines for branding and logo reproduction, for example, and also when your print run is a long one requiring the press to be inked and re-inked. Spot color is a highly popular option among flexible pouch finishes.
Spot UV/Varnish
Spot UV/varnish (or overprint varnish, OPV) refers to the application of either a clear shiny, or dull matte coating to a specific area or areas of a printed pouch (rather than coating the entire surface). This design technique is a creative way to add depth and contrast to your graphics and draw consumer attention to your most compelling image or text. Because it is so effective, spot UV/varnish is a rich option for many printed materials, including flexible pouches.
Put Your Product in the Spotlight
In the competitive consumer package goods industry, finishing your flexible pouch packaging with a special flourish gives your product a decided advantage on the shelf. It also creates a memorable experience for your customers. The four flexible pouch finishes described above are popular, but other finishing touches are also available.
At SunDance, our state-of-the-art printing and packaging plant is at your service. We offer product marketers and package designers a complete menu of award-winning services along with unrivaled choices of package features and finishes. Our packaging experts are available to help you choose the options that will put your unique product in the spotlight and give it all the attention it deserves.