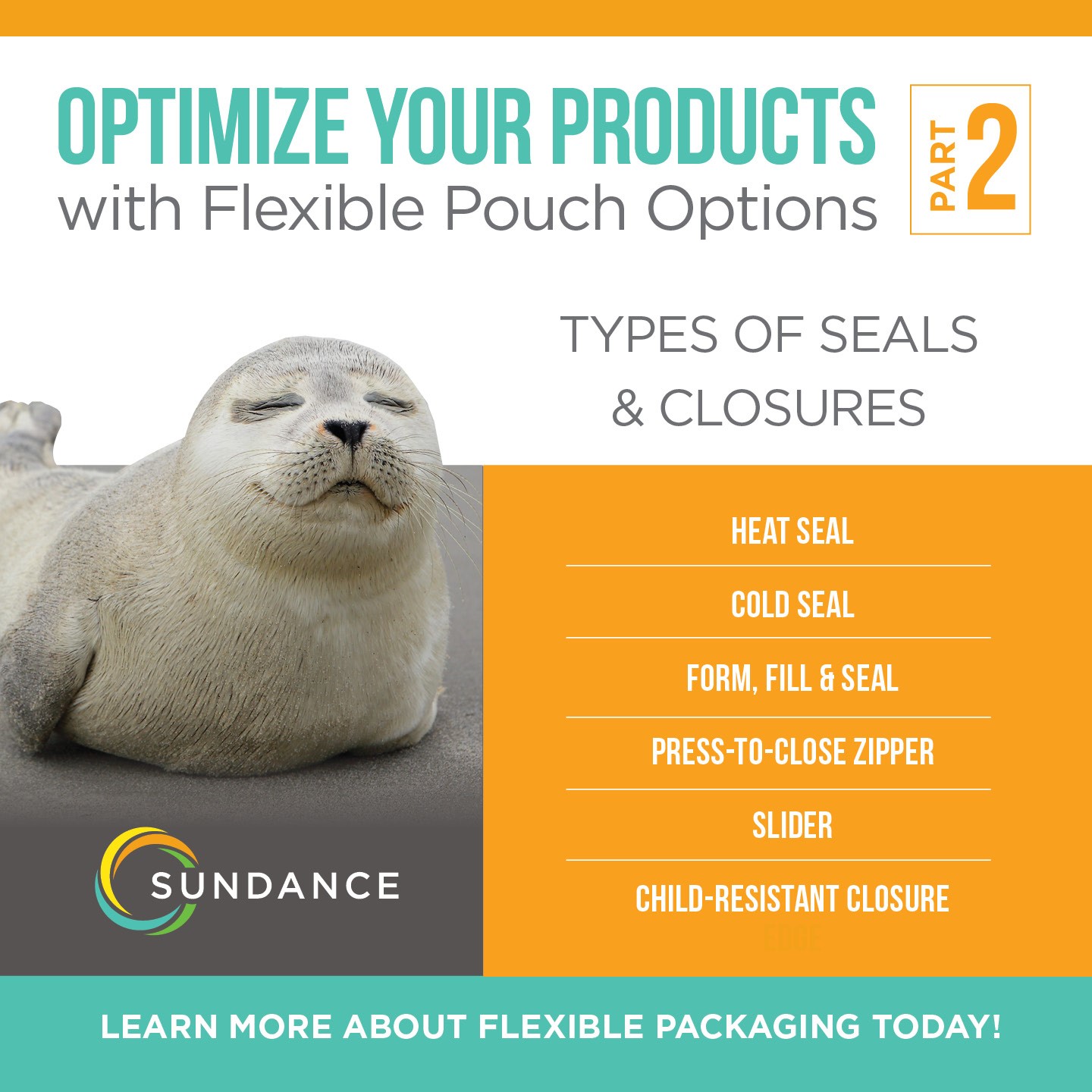 When developing a new product, one of your early decisions will be how to package it. Packaging is driven primarily by the various properties and requirements of your product.
Numerous flexible pouch options are available today to optimize your product marketing efforts. In Part 1 of this article, we addressed pouch types and gusset styles. Here, Part 2 finishes with pouch seals and closures. There will be a test at the end. Just kidding!
Types of Seals

Flexible pouches, also known as mylar bags, must be sealed along seams in order to form a secure pouch, and closed on a seam to allow consumer access to your product. Seals and closures are two distinctly different flexible pouch options. There are three primary types of seals.
Heat Seal. This method uses heat and pressure to seal seams. Heat sealing fuses the inside material of a pouch together to create an airtight seal. This requires the inside material of a pouch to have a low enough melting point to heat sufficiently without burning the middle or outside pouch materials.


Cold Seal. Cold sealing uses adhesive and pressure to seal the seams. Instead of using heat, which might damage products like soft candies or frozen treats, an adhesive is applied along the seams, which are then pressure-sealed.
Form, Fill and Seal.

Flexible packaging material that is wound onto rolls is called roll stock, which lends itself to this sealing option. FFS is a single, flowing process in which pre-printed roll stock is converted into a pouch (or a sachet, bag, or stick pack), filled with product, and sealed shut. Potato chips, single-serving drink powders, and portable lotions are common products for FFS processing, although it is suitable for many other products as well.



Types of Closures and Their Uses
Some pouches are designed to be opened once, all contents removed, and the empty pouch recycled or discarded. However, another flexible pouch option offers special closures that enable the pouch to be opened and closed repeatedly so that your product can be consumed or used over time.
Press-to-close zipper. This closure features one, two, or three small projecting fins that insert into an offsetting channel. When the two sides are pressed together a dependable seal is created. Clear plastic sandwich bags commonly use this type of closure.


Slider. A zipper-like sliding mechanism moves along a track at the pouch opening. The track consists of two interlocking sides that create a reliable seal when the slider presses them together. Sliders are easier on the fingertips and enable pouches to be resealed multiple times.


Multiplex Hook and Seal zipper. Made of a Velcro-like material, the Multiplex closure eliminates misaligned zippers caused by materials falling into the tracks of traditional press- to-close zipper closure. This closure is preferred over the traditional press-to-close or slider for powdered or small particle products.


Child-resistant closure. Child-resistant closures are crucial to compliance with requirements of the Poison Prevention Packaging Act (PPPA). Flexible pouch contents are secured by a special child-resistant zipper that allows the pouch to be opened and closed securely and repeatedly. Integrated into the closure (in this example) is a visible blue line that helps adults and seniors open the sealed pouch quickly and easily, while preventing access by very young children.


Spout. This is an injection-molded closure with a rigid opening or mouth that enables the contents to be poured or shaken out of the flexible pouch. The spout features a resealable cap, lid, or other closure to keep contents secure and fresh until fully consumed. Spouts are commonly found on flexible juice containers and on-the-go baby foods, among other pouches.


Laser scoring. Many pouches that use zippers or sliders come fully sealed when purchased to prevent damage or inadvertent opening of the zipper or slider. To enable consumers to access the closure, a score line is lasered into the pouch material above the zipper or slider. The addition of a tear notch provides an easy start for tearing open the pouch at the score line. Then, the consumer is able to access pouch contents using the slider or zipper.
As this article demonstrates, flexible pouch options are many and varied, and are designed for a multitude of purposes. The pouch type, gusset style, seal options, and closure mechanisms offer a wide range of functionality to accommodate your specific product, transport and store it securely, and display it to its greatest advantage. This is why so many marketers choose flexible pouches for their products.
Learn More About Flexible Packaging/ Mylar Bags

SunDance continues to expand our flexible pouch options to help product marketers and package designers optimize your products. We have a long-standing commitment to sustainability in our printing and packaging processes, and every year our work earns printing and packaging honors at the prestigious Florida Print Awards. Learn more during a tour of our state-of-the-art facility in Orlando, Florida.