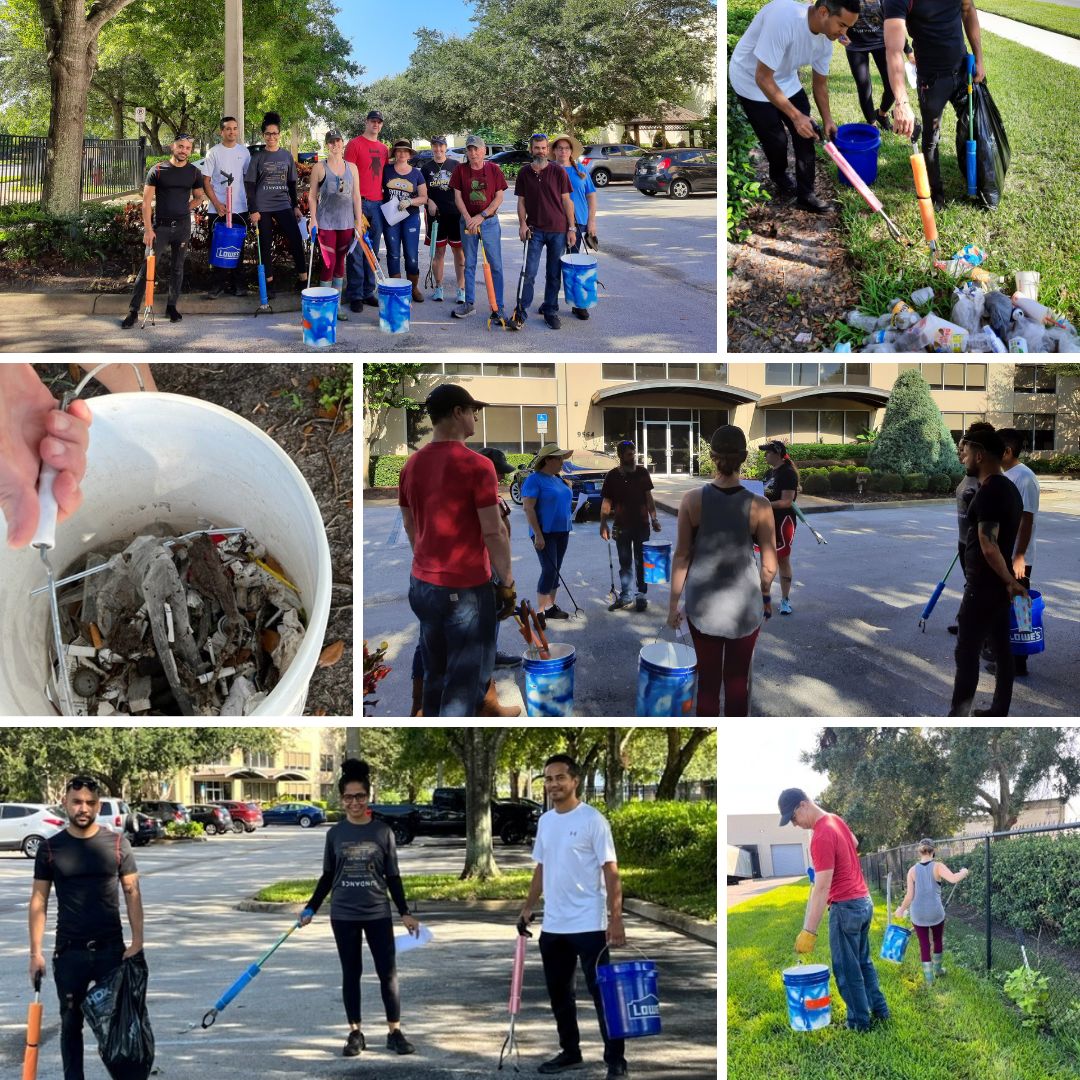 As an SGP Partner, we are asked to do a continuous improvement project every year. This year we split our project into 4 individual community focused projects to benefit the environment and the people here in Orange County. Check out our previous coverage on our blood drive event and our school supply drive event.
Our facility is located in an industrial park with a lot of vehicular and foot traffic due to other organizations on this street. We are also very close to Orange Blossom Trail, one of the busiest streets in Orlando. This is a recipe for trash buildup from littering. And we see it every day. That's why we decided to put on a community clean up event to clean up the area around our facility. Behind our facility is a creek that leads to a retention pond, so any trash that ends up around our facility has a high chance of ending up in our waterways.
While our cleanup event was held on September 24th, a week after National Cleanup Day, we were still in the cleanup spirit! The National Wildlife Federation is putting on The Clean Earth Challenge and so we logged all of our trash to submit for their goal of collecting 1 million individual pieces of trash.
Our employees and some of their partners all met up at 9:30 AM and were provided with buckets and grabbers thanks to CFL RECON, a local group of conservation minded individuals who regularly put on cleanup events, often on lakes and rivers. We had 10 employees who chose to come out on a Saturday morning and get right into the dirty work. And dirty it was.
Over the course of 2 hours, our employees cleaned up behind our building, and then down to each of the nearby street corners, including to a bus stop where it seems someone ripped open a garbage bag and left its contents scattered around. We also cleaned up around our new Sundance East facility across the street from our primary facility.
We collected approximately 641 individual pieces of trash (some of our clean up team did not record their results, which was optional!). The most common trash items were plastic products like cellophane wrapping or plastic bags, paper products like napkins, and cigarette butts. We also found masks, batteries, bottle caps, bottles, cans, straws, cardboard, cigarette boxes, you name it we probably cleaned it up. Once we weighed our trash, it was 30.1 lbs! 30 pounds of trash collected in 2 hours in one small area. It's a reminder to throw away your trash, don't let it get dumped or blown away in the wind. Because it really does add up. Ask the 92 individual napkins we found.
While we were leaving the facility for the day, we actually found a half empty water bottle in our driveway someone had just ditched in the 20 minutes we were doing our photos and getting ready to leave. Our sustainability manager parked her car in the middle of the lot just to jump out and get the bottle before leaving. If everyone picks up a few pieces of trash a day, we can hopefully keep the world beautiful. We thank our employees and their partners for coming out and supporting one of our guiding tenets to Live Sustainably this weekend. We came out and #ComeCleanForEarth
"When we see land as a community to which we belong, we may begin to use it with love and respect." – Aldo Leopold