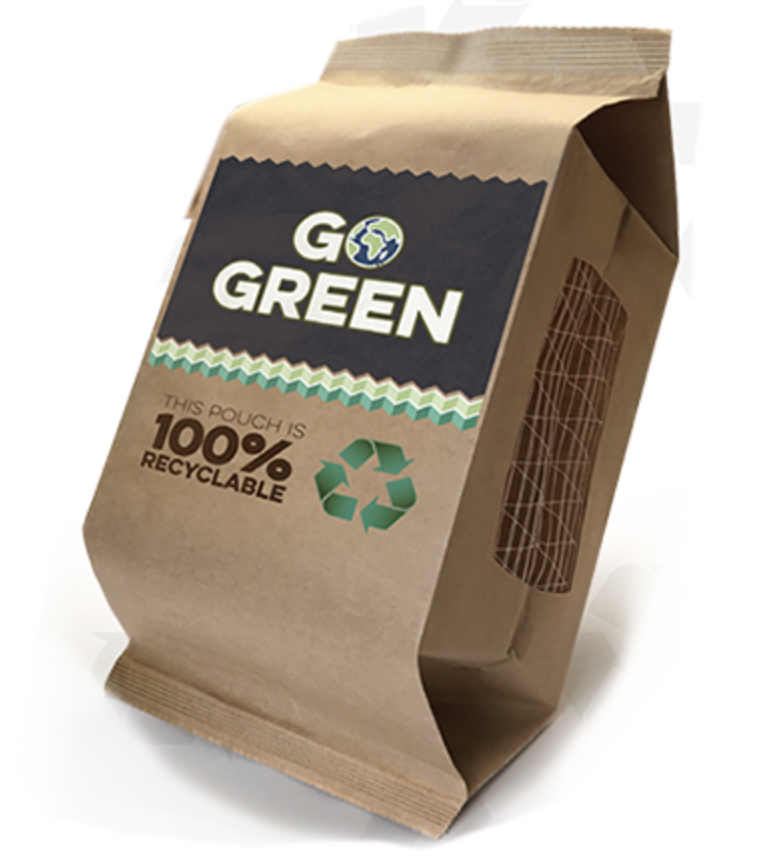 Flexible packaging is universally popular among manufacturers, consumer goods packagers, product marketers, and end-users alike because it offers so many benefits. And just as the stand-up pouch was a milestone in the evolution of flexible packaging, a unique new 100% recyclable paper pouch is leading the transformation to super-green flexible packaging.
In the 1970s and 80s, plastic overtook paper to become the go-to in consumer goods packaging. However, as plastics dominated store shelves, then trash cans and landfills, enlightened consumers began demanding more eco-friendly packaging solutions. Today, paper packaging is competitive with plastic packaging thanks to increased fiber strengths and other innovations.
As a result, paper is revolutionizing the consumer packaged goods market, and the new 100% recyclable paper pouch has become a superhero in the flexible packaging arena.
What Makes the Paper Pouch Revolutionary
For starters, these unique paper stand-up pouches are 100% sustainable because they are recyclable, biodegradable, compostable, and even repulpable. There are no plastic liners, metallic panels, cellophane windows, or gobs of glue in this super-green packaging option—so the pouches are as organic (and lovable) as many of the products they contain.
In addition, these innovative 100% recyclable paper pouches have undergone stress-testing, including holding water without seam separation. The super-strong pouches can be heat-sealed quickly and securely using a unique heat-sealable adhesive that is also 100% recyclable and compostable.
The eco-friendly paper pouches can be created with fiber mesh or paper mesh windows on the front, back, and/or sides of the pouch to offer a view of the product inside. The mesh windows also provide ventilation for contents that require it, such as certain grocery produce. In short, these lovable paper pouches offer a super-green complement to other creative pouch packaging solutions.
Advantages of Using 100% Recyclable Paper Pouches
Our innovative paper pouch is an environmentally responsible packaging option that is quickly being embraced by packagers and consumers as a result of several important advantages.
Paper is a renewable resource due to the ongoing planting, harvesting, and replanting of softwood trees. Paper also has a well-established recycling stream, and it can be recycled multiple times before its fibers break down.
Offering products in a 100% recyclable paper pouch allows you to digitally print the "100% Recyclable" logo on the pouch (as well as biodegradable and compostable logos), which sends a clear message that sustainability is important to your company. And makes you lovable, too.
Our stand-up paper pouches can be repulped and milled into paper again. They are also biodegradable and compostable for commercial and residential compost containers. The pouches will naturally biodegrade within several weeks along with paper towels, paper napkins, uncoated paper plates and cups, and other compostable paper goods.
Finally, based on decades of collective experience, we have learned that plastics and other synthetic packaging can have a damaging effect on the environment. That's why many states are enacting Extended Producer Responsibility (EPR) laws designed to reduce the use of harmful packaging materials. Our new 100% recyclable paper pouch is a strong, super-green, and oh so lovable alternative to packages that are subject to these new laws.
Learn More About Our Super-Green Superhero
SunDance has long been committed to sustainability in our printing and packaging processes, and we are pleased to add a new highly sustainable package format, the 100% recyclable paper pouch, to our award-winning portfolio. Come meet this exciting flexible packaging superhero during a tour of our state-of-the-art facility in Orlando, Florida.