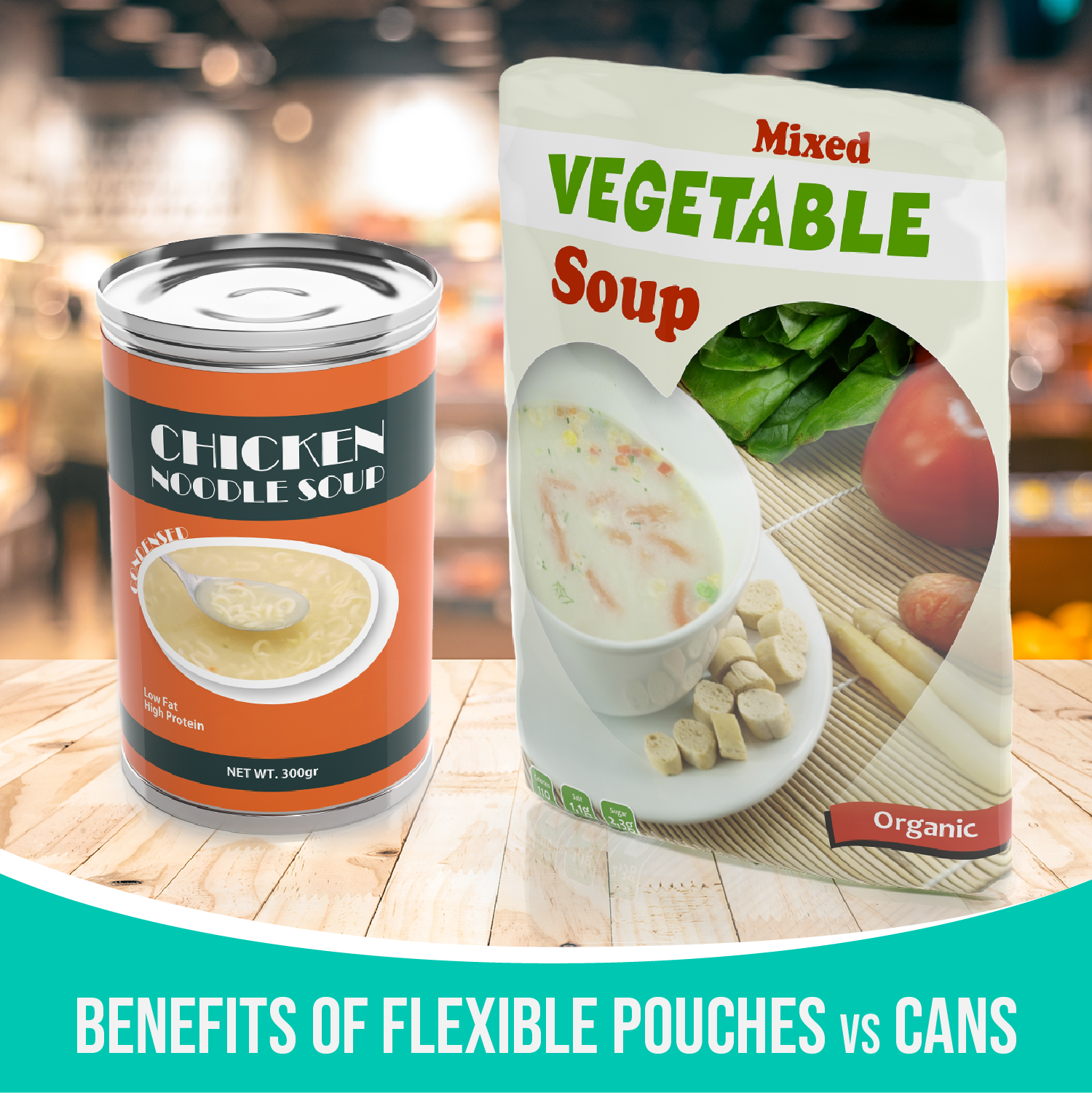 Aluminum and steel are the two most common cans used for food and beverages. Both are recyclable, despite being thinly lined with a polyester or acrylic barrier between the food or beverage and the metal can. Although canning dates to the early 1800s, aluminum was introduced into can-making in 1957, according to Industrial Physics. Aluminum cans have been recycled so much that nearly 75% of all the aluminum ever produced is still in use today.
However, cans have decided drawbacks when compared with using flexible pouches for food and beverages. Since the original stand-up pouch was invented in 1963, flexible pouches have become a mainstay of modern food and beverage packaging, according to Industrial Packaging.
Advantages of Flexible Pouches vs Cans
Flexible pouches are an excellent alternative to metal cans for a wide range of food and beverage applications. Following are a few of the benefits of using flexible pouches.
Packaging weight refers to the weight of the package without the contents. Flexible pouches are lighter in packaging weight than metal cans—generally, less than 10% of the packaging weight of the equivalent can. This advantage can reduce storage costs for manufacturers and reduce shipping costs and fuel consumption for manufacturers and distributors.

Flexible pouches can be produced from a variety of plastics as well as a range of sturdy papers and can even be created from a blend of materials, such as the

mylar pouch

.

Another advantage of flexible pouches vs cans is a lower manufacturing cost, with less energy used in pouch production. Overall, flexible pouches consume 75% less energy than metal cans, according to the Flexible Packaging Association.

Flexible pouches produce a lower carbon footprint than cans. This means less carbon dioxide and other carbon compounds are released into the atmosphere as a result of fossil fuel use during manufacturing and distribution processes.

Flexible pouches can frequently be recycled. Many city and county recycling programs accept papers, plastics, and cardboards as well as metal cans. And many collect all materials in a single curbside pickup.

Flexible pouches can be created in a

wide variety of shapes, while the rigid metal can is limited to a cylindrical shape. B

eyond the popular squares, rectangles, and circles, p

ouch shapes can be c

ustomized to reflect their contents, celebrate holidays, or create special marketing themes.

Yet another advantage of using flexible pouches vs cans are the extensive design and printing opportunities provided by flexible pouches. Foils, holograms, and other

eye-catching touches

can be incorporated into pouch design, and windows can be added to display the contents without affecting package integrity.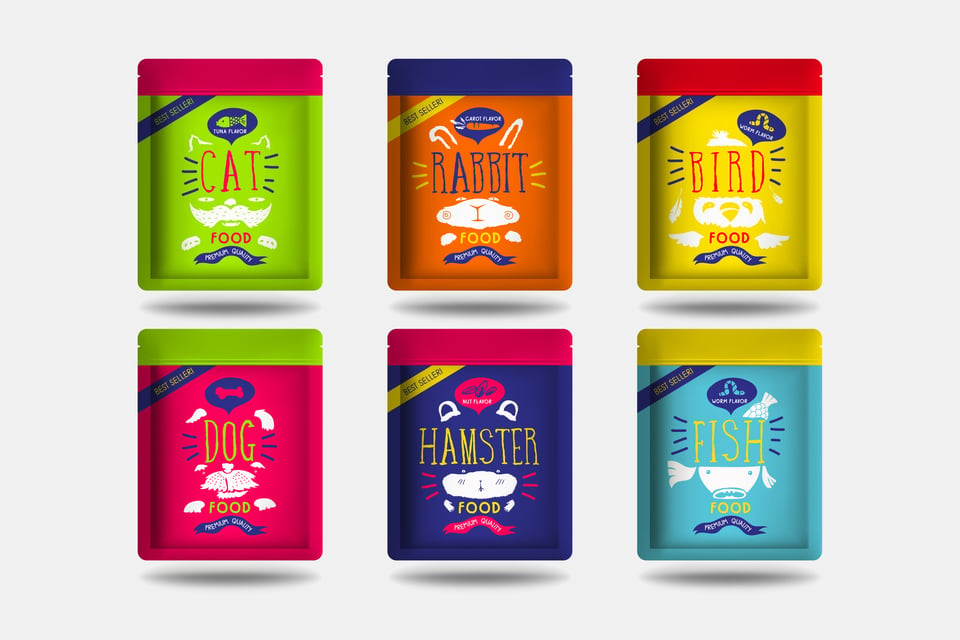 Flexible packaging can be used for numerous food items; almost anything that can be canned can be packaged in a flexible pouch.

Apples to Apples Comparison: Pouches vs Cans
To illustrate some of these points, consider a case of #10 pouches and a case of #10 cans. According to Flexible Packaging Association data, both the pouch and can are sized to hold 108 ounces of product or contents. The packaging weight of the cans is 312.4 grams versus the packaging weight of the pouches at 28.4 grams. Furthermore, the product-to-packaging ratio for the cans is 10:1, while for the pouches it's an impressive 108:1. Each case of #10 pouches, with contents, uses about 30% less volume or space than a case of #10 cans with contents.
In simpler terms, metal cans are heavier and bulkier, consume more energy during production and have a larger carbon footprint, and offer fewer design and printing options than their flexible pouch cousins.
The next time you are charged with creating packaging for a food or beverage product, consider the advantages of the amazing flexible pouch.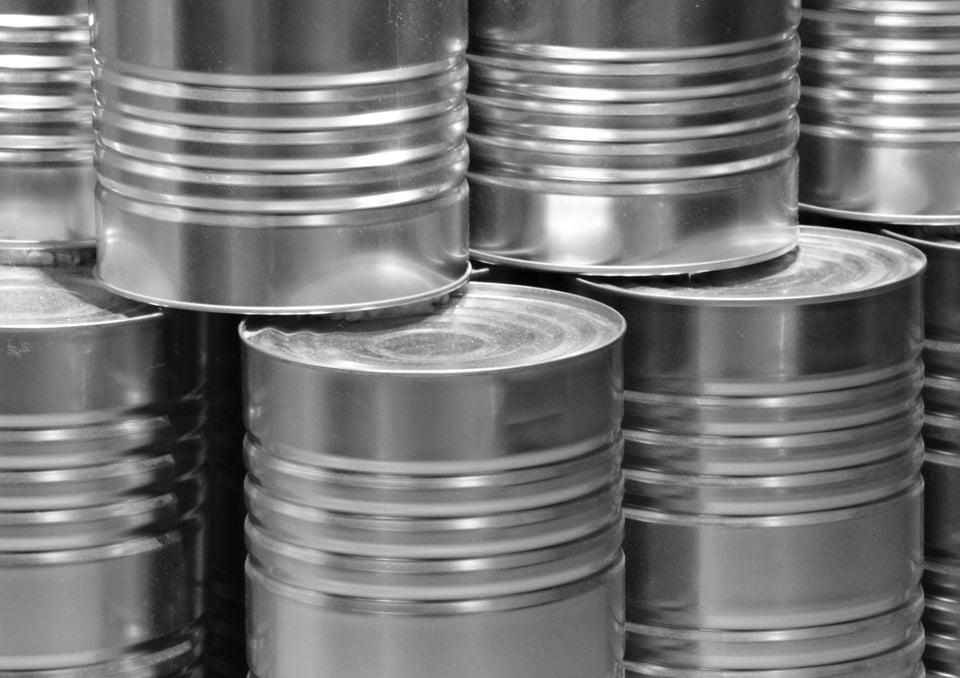 Cans are a heavier option and more costly to distribute when compared to flexible pouches.
Packaging Innovation at Your Fingertips
SunDance fosters a culture of packaging innovation that enables package designers and product marketers to create the best packages for each unique product. Discover all the exciting things you can do with flexible packaging. Learn more about child-resistant packaging. Explore new options for cartons and small boxes. And choose from a stunning array of printing and finishing options guaranteed to make your products shine. It's all right here at SunDance!
Contact us at 844.427.7468 or ContactUs@SunDanceUSA.com.