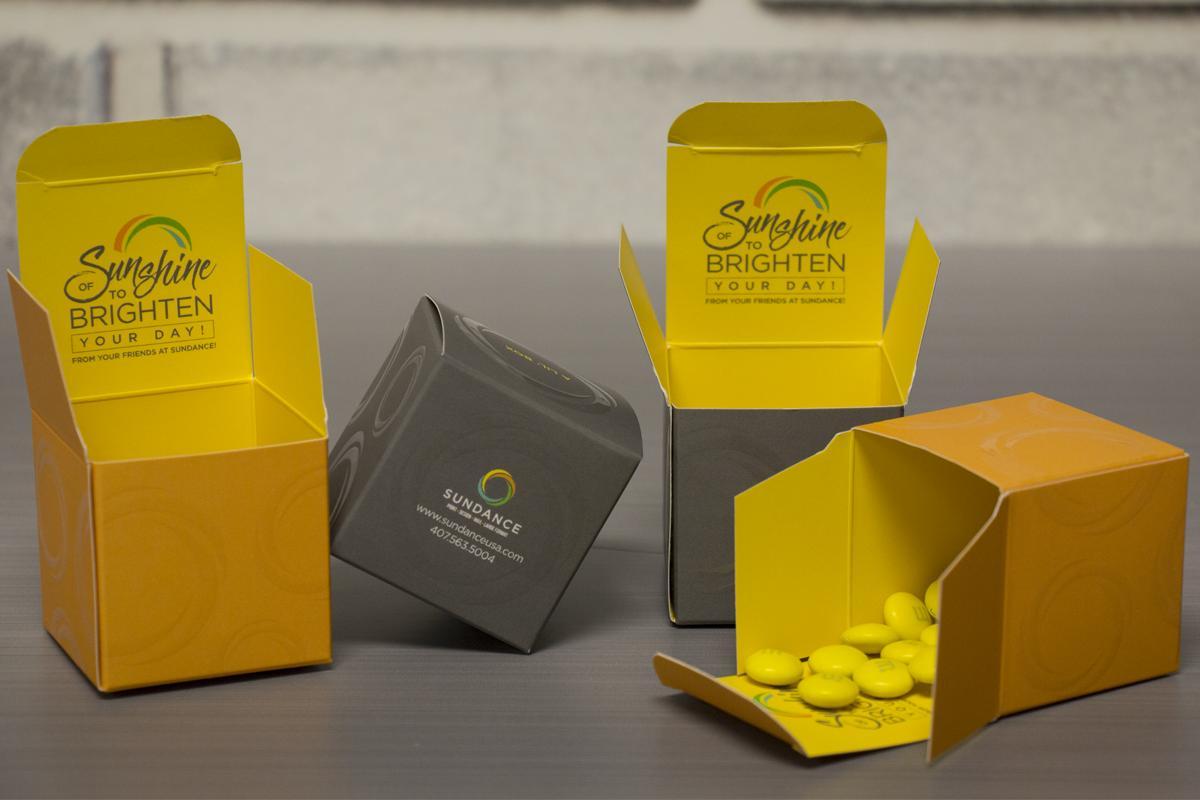 SunDance customers can now create virtually any type of carton, box, or small box with the latest exciting addition to our full-service packaging plant. Like so many other recent additions, our new high-speed carton folder/gluer is technologically advanced and highly cost-efficient. It will transform how you design your cartons and especially your small boxes.
Next Generation Technology Provides Exciting New Features
Our new state-of-the-art carton folder/gluer delivers new features and innovations that enable SunDance to offer the widest range of large and medium cartons, as well as small and tiny boxes, ever available.
Following are a few of these innovations:
Next generation folding and gluing technology delivers four times the previous carton production speeds.

New equipment design makes it easy to transition between different packaging types—from large straight-line and lock-bottom cartons to delicate boxes for cosmetics and jewelry, for example. It even supports odd-shaped boxes.

A special attachment can fold custom boxes as small as 1.77 x 2.17 inches, perfect for lipsticks and similar product shapes.

The system features innovative inline quality control that immediately detects flaws in cartons and removes them from the production line, which is especially important for nutraceuticals packaging.

Easily handles solid cardboard in 200 to 600 GSM thicknesses, up to F-flute corrugated board, and a range of paper stocks. Consult our GSM conversion chart for the U.S. cardboard thickness equivalents.


The new carton folder/gluer is also short-run friendly. Requiring only a handful of carton samples to get ready for full production, the easy setup reduces waste and its associated cost.
Limitless Possibilities for Small Box Packaging
Product marketers and package designers are always seeking ways to create new looks and eye-catching custom packaging for their merchandise. Making sure that small products stand out on shelves is a constant challenge. Now, combining artistic design and quality printing with innovative small box packaging enables you to meet that challenge head-on—ensuring that cosmetics, jewelry, toiletries, and other small products get the attention they deserve.
With this latest addition to our packaging line-up, the SunDance team is able to offer the finest quality printed packaging delivered much faster and more cost-effectively. The opportunities are limitless for creating custom beauty packaging, printed cardboard jewelry boxes, and small boxes tailored for other small products, as easily as designing medium cartons for pet products and large, colorful cartons for prepared food delivery, as just a few examples.
A Culture of Packaging Innovation
Nowhere but SunDance will you find a culture of packaging innovation that enables package designers and product marketers to create shelf-appeal that moves products. Come discover the advantages of flexible pouches with custom die-cut pouch shapes and mylar bag pouches. Learn more about certified compliant child-resistant packaging. Explore our exciting new options for cartons and small boxes. Choose from a stunning array of printing and finishing options guaranteed to make your products shine. It's all right here at SunDance.
Got a great idea for a carton or box to showcase your newest product? Our printing and packaging professionals can help!
Contact us here or give us a call at 844-42-PRINT.