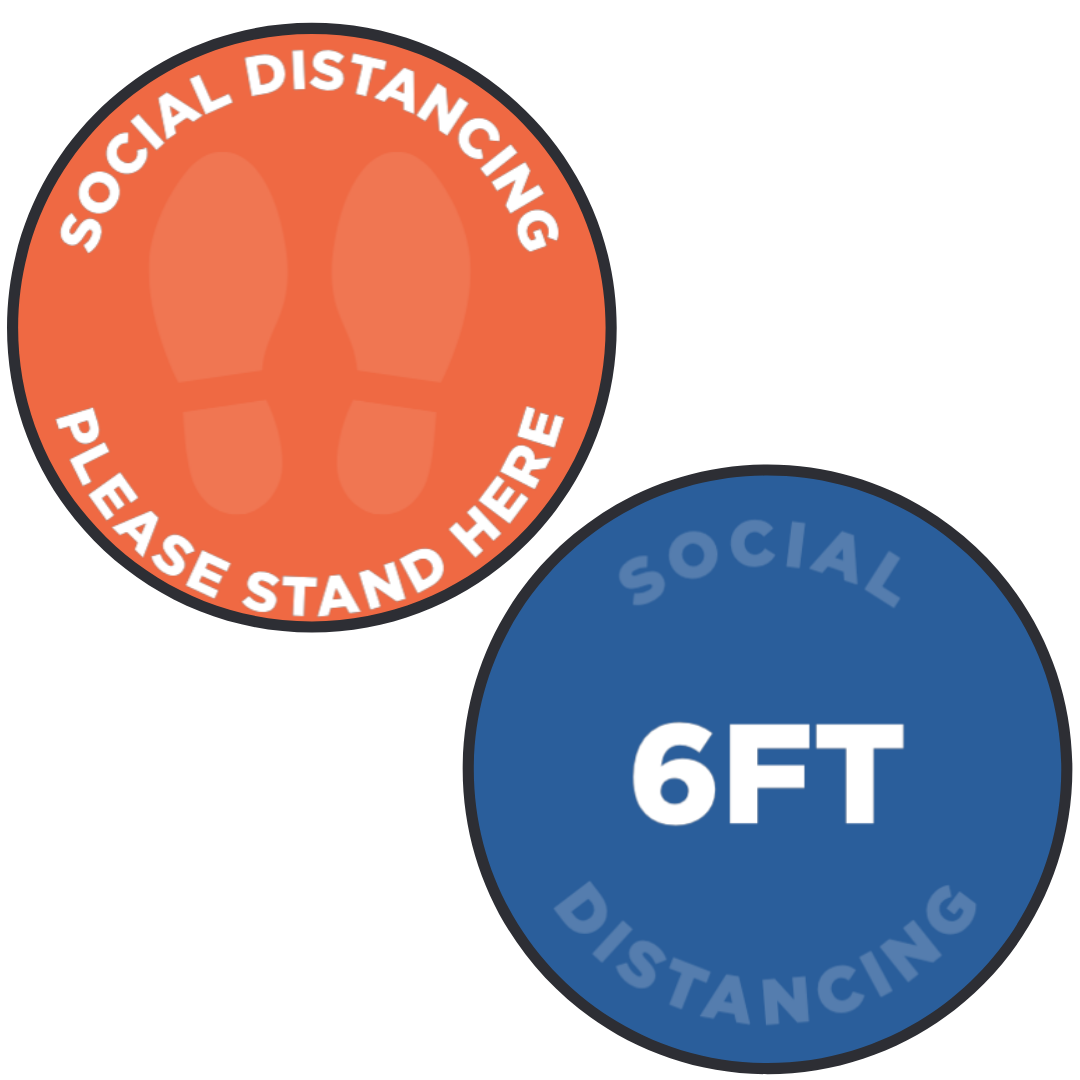 Social distancing has become a new way of life for everyone. This technique serves to stop or slow down the spread of the highly contagious disease, COVID-19. Securing the health of your customers and staff should be a top priority. This simple yet effective measure reminds your customers and employees to keep adequate distance from each other. Social distancing floor decals are ideal for any industry, including supermarkets, healthcare, hospitals, retailers, restaurants, and many more.
Benefits of Social Distancing
Floor Decals
Social distancing floor decals have many benefits for a variety of businesses, including the following:
Flatten the curve:

Perhaps the biggest benefits of social distancing floor decals

is

to prevent the disease from spreading, and flattening the curve

.

Maintaining proper distance will not only

protect

ourselves

,

but

will also protect those who are more vulnerable.

Customer Awareness/ Participation:

Placing social distancing floor decals around your business provides a gentle reminder to customers

of

the behavior expected from them. The decals clearly portray the required distance from one another and make it easy to follow guidelines.

Relieve Anxiety:

We are all on high alert during this difficult time

.

F

loor decals can relive

some of the excess

anxiety by showing customer

s

the correct

and safe

separation distance

from one another

. We are all working together to create a safe environment to conduct business.

Proves

Unity:

Social distancing floor

dec

als

will make your customers more comfortable, making their shopping experience a positive one.

Applying social distancing floor decals will show your customers and staff that you care.



For these reasons and many more, it is essential to practice social distancing during this time. Allow us to help you keep and maintain the health of your customers and staff secured by applying social distancing floor decals. Your customers and staff will appreciate your solidarity!
Where
To
Use Social Distancing Floor Decals
It is evident social distancing floor decals serve as an effective technique to slow down and prevent the spread of COVID-19. These social distancing decals can be used on the ground for queue lines, including checkout lanes and product aisles, waiting areas, in front of reception desks or registers, and more. Your customers will notice a more enjoyable experience with less crowded space.
Order Your Social Distancing Floor Decals Today
Our slip-resistant, peel off floor decals are durable and can be used both indoors and outdoors. With our wide variety of floor decals, you will be able to select the one that fits best with your business's atmosphere. Our floor decals can also be customizable with your brand logo and color. There is no doubt that everyone coming together and taking small, but effective, actions like this will bring great benefit to all.
Contact us today or request a quote to order your social distancing floor decals and lets join forces to stop or slow down the spread of COVID-19.