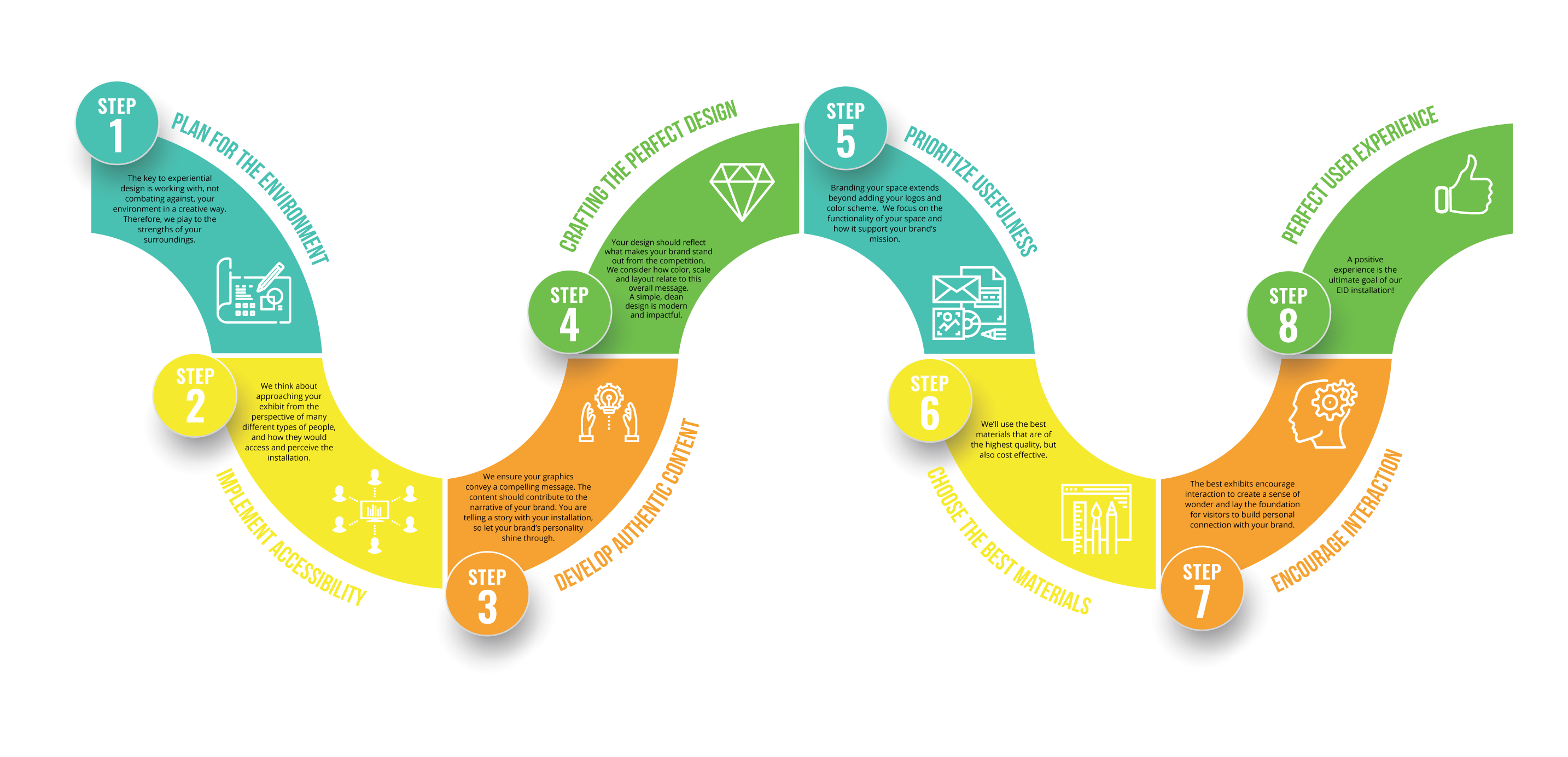 Interior design has shifted over the last several years from a purely aesthetic standpoint to one that focuses more on the occupant's experience, giving rise to an exciting new trend - experiential interior design. It's not solely about how a space can look better, but how it can also be better for the people that occupy it. Similar to related concepts like biophilic interior design which emphasize a more human-centric perspective to improve the wellbeing of occupants, experiential interior design focuses on how the person interacts with a space through different senses to create an experience.
See what's involved in the design process and how any brand can use experiential interior design to create connections with customers, employees, event attendees, and more.
Experiential Interior Design Process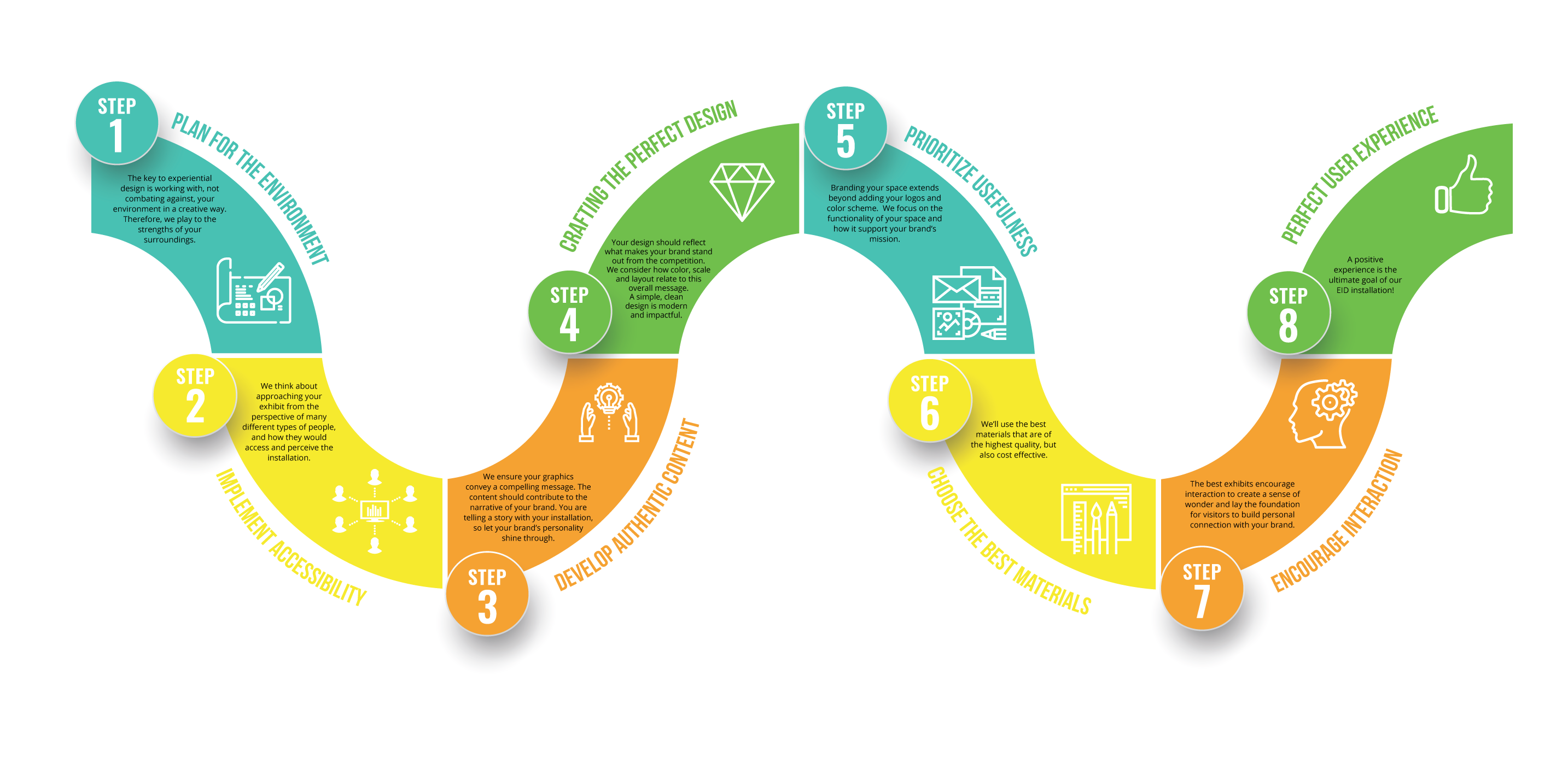 Good experiential interior design may look effortless but there's a lot that goes into it from planning to installation. We've broken down the design process into eight simple steps so you can see how we'll execute your vision.
Step 1: Plan for the Environment
First, we evaluate user behaviors and spatial interactions to ensure the design works with, not against, the environment and complements the strengths of the space.
Step 2: Implement Accessibility
Many different types of people will be in the design space which is why we take into account how they'll interact and perceive the design space to ensure it's accessible.
Step 3: Develop Authentic Content
We work with you to develop the graphic design and content so they align with the brand message and reflect the purpose of the space.
Step 4: Crafting the Perfect Design
After developing the design concept, we'll make sure that the design communicates the brand message and the space's purpose through color, scale, and layout.
Step 5: Prioritize Usefulness
For an interior design space to be "experiential," we focus on functionality and how it impacts the occupant's experience.
Step 6: Choose the Best Materials
Experiential interior design uses a variety of materials to create a multi-sensory experience. We'll help you select the best combination of materials to achieve the desired effect.
Step 7: Encourage Interaction
It's not much of an experience if the design space doesn't encourage interaction which is why we focus on ways to create engagement and connection between the brand and occupants.
Step 8: Perfect User Experience
All of these efforts culminate into a positive experience with the brand that occupants won't soon forget.
Experiential interior design lets brands make a visually appealing statement while increasing the functionality and accessibility of their space. With our experience in three-dimensional graphic design and large-format printing, we'll help you create one-of-a-kind spaces from concept to installation.
Experiential Interior Design For Any Brand
Experiential interior design is meant to elicit an emotional connection to your brand and immerse occupants in a narrative. Wherever people use a space, experiential interior design can be used to ignite their senses for an immersive experience. It can be used for a variety of spaces like:
Workplaces

Retail stores

Hospitals

Restaurants

Educational institutions

Hotels and resorts

Convention centers

Theme parks

Museums

Airports

Salons

Breweries

Non-profits

Community centers
The list goes on! The design approach, however, is more than just about how people will interact with the design space, it's about creating emotional connections. While functionality is an important aspect of experiential interior design, it's not the only thing that creates an "experience." What do you want the space to achieve? For example, in a workplace, this could be creating spaces that facilitate collaboration and enhance employee well-being.
When developing an experiential interior design, focus on the needs and desires of your occupants rather than strictly approaching it from a brand messaging perspective.
Experiential Interior Design Services
SunDance offers experiential interior design services such as site planning, concept design, sourcing, production, and installation. With in-house design and printing capabilities, we can help you develop a personalized interior space that communicates your brand's message and enhances the space's purpose. Contact us today to see how our experienced team can help you create an experiential interior design that encourages a deeper connection with your brand.