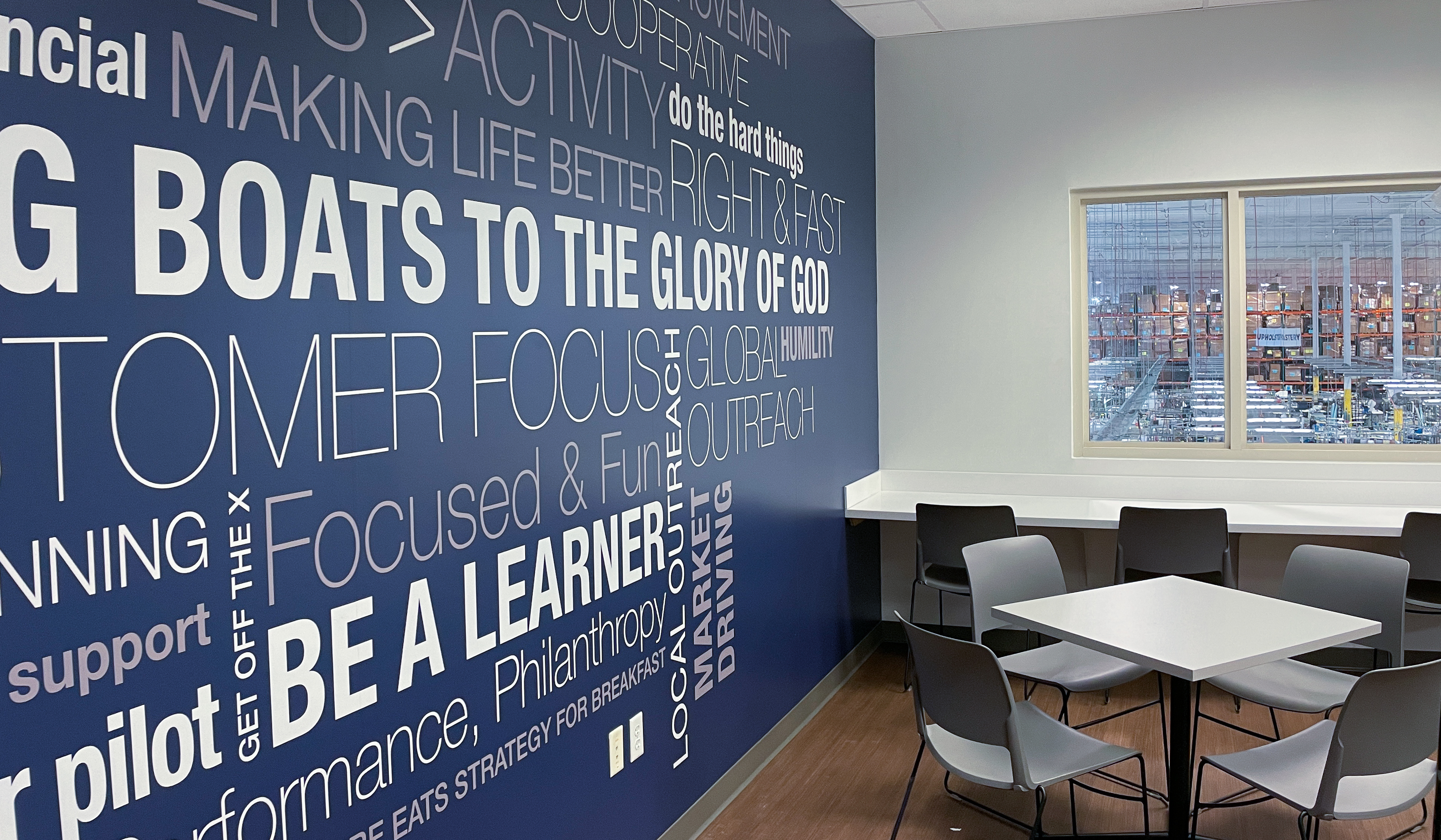 The writing is on the walls... custom wallpaper and wall wraps are the way to breathe new life into your space! We all know that a touch of wallpaper can transform your space, whether at home or in the office. With the rise of Experiential Interior Design, more individuals have realized that their spaces are an opportunity to create a lasting impression.
Ready to unleash your creativity by designing a unique space with custom wall coverings? We've compiled five things you should know before starting your next custom wallpaper or wall wrap project.
1. Wallpaper Has Changed A LOT
Like many things, wallpaper has gone through several upgrades in recent decades. This isn't the same wallpaper that your parents or grandparents used to struggle with. Back in the day, putting up wallpaper was a significant chore. Dealing with separate pans for water and glue, then pasting the sheets to the walls, the installation process was grueling. With the introduction of vinyl wallpaper and wall wraps came more ease for consumers.
Vinyl wallpaper installation is much easier than its predecessors, making lining up seams less complicated. The time needed for installation has been dramatically reduced. Vinyl wall coverings are a more durable choice when compared to traditional wallpaper. It can be cleaned with a damp cloth and mild soap, making dealing with spills or messes much more manageable. Vinyl wall coverings are also water-resistant, so you don't have to worry about moisture damage for quite some time! Gone are the days of living with the fear of damaging your precious newly wallpapered walls.
2. Size of the Room
Whether you are working with a warehouse space or an office lobby, it is imperative to consider the room's overall size before designing your custom wallpaper or wall wrap. Even if you aren't applying wall coverings to every wall in a room, understanding the size and layout of the space can ensure that your vision will adequately come to life.
Small spaces tend to get crowded with busy or large-scale patterns. Try to keep designs simple and smaller scale in tighter areas, especially when trying to create a peaceful environment. But if you're looking to bring high energy into a space, busy patterns will do just that, as the room will feel full of life. Keep in mind that colors like light greens and blues tend to bring calmness, whereas bold reds and oranges can evoke hunger and heightened energy.
Keep your color palette and design light if the room lacks natural lighting or feels dark. Conversely, if it's a bright space, go for the gusto and do something bold, dark, or both! Ultimately, the size of the room will determine how you approach your intended feel for the space.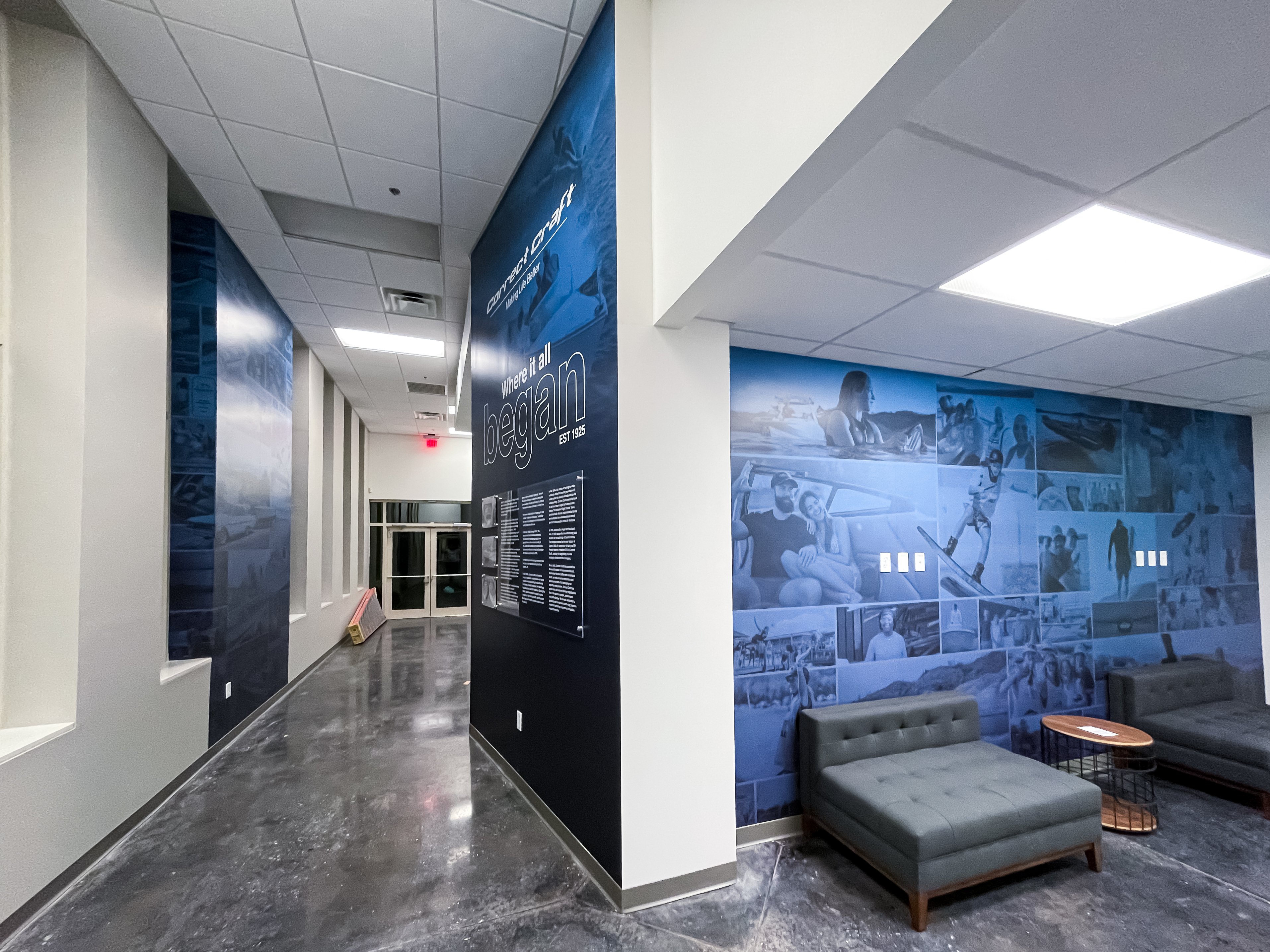 3. Exact Measurements of Wall(s) and Features
As the old saying goes, "measure twice, cut once." Walls are usually a substantial space, and collecting accurate measurements when preparing for wallpapering is essential. Also of import is noting where outlets, switch plates and other immovable areas are on the wall that will receive the wallpaper.
Photos of the intended area are crucial in helping the designer overlay the pattern to accommodate all characteristics of the wall or space. Knowing the exact measurements of the room will allow the designer to mock up your wallpaper in its intended environment. This step is critical for wallpaper designs consisting of words, photos, or graphics, as spacial measurements directly affect the layout of the design. Measuring your wall(s) and features before you begin the design process reduces the chances of error when it's time for installation.

4. Who is Designing Your Wallpaper
Are you well-versed in graphic design and plan on creating the wallpaper yourself? Or are you looking to have a designer bring your dreams to reality? Knowing who will design your custom wall covering is key to starting your project.
Set expectations for the room and explain your vision, but be open to feedback from the designer. Be thorough in your creative brief. Since the designer's expertise will convert your idea into a design ready for production and installation, it's vital to communicate what is important to you before the design process begins.
When working with a designer, if possible, have them walk the space. At SunDance, our experienced design team schedules time on-site to view project areas and discuss goals. For example, you'll frequently find Pia Crawford helping to take measurements on-site and walking through the design and installation process with her clients. Working with a team of industry experts ensures your project will receive the care and attention it deserves.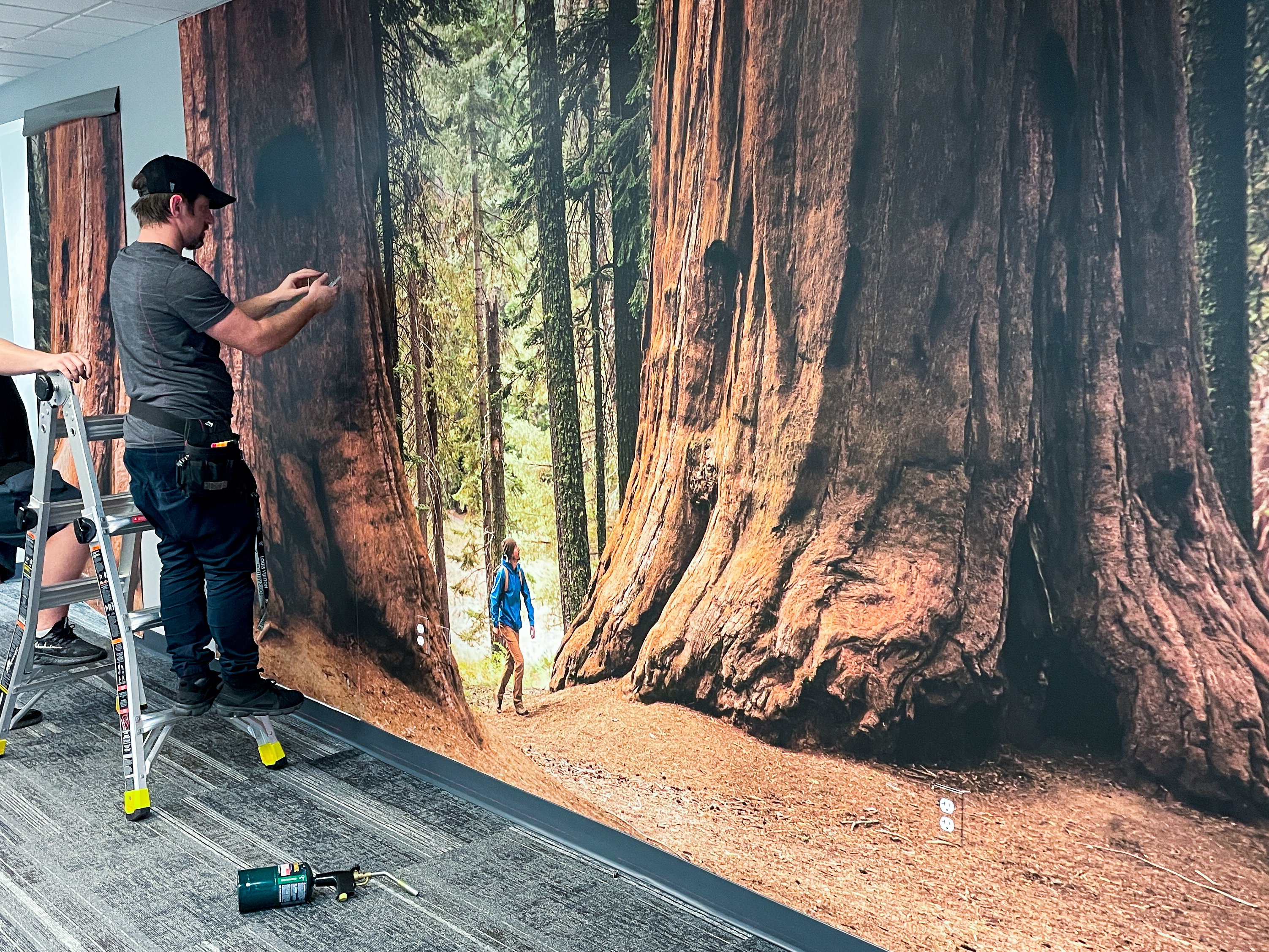 5. File Formatting
You've come a long way with your custom wall covering project; the last thing you want to do is drop-the-ball when formatting your files before printing. Your files should be either built-to-size or at least 50% scale. Photos should be at least 150ppi or higher unless you are looking to achieve a grainy effect for the end result. Logos files should be in scalable vector art, and any type in the design should be converted to outlines. These may seem like little steps, but they are too often missed and can ultimately affect your design and print quality.
Bonus: Who Will Print and Install
If you've passed the design phase, it's time for print and installation! SunDance is your solution for all things printing, even wallpaper and wall wraps! Our headquarters is located centrally in Orlando, making us a premier choice for printing and installation in Florida. Out of state? We provide worldwide shipping and offer virtual consultations. Our team of experts are here to assist every step of the way, no matter when or where you get your project started.

Any questions we didn't cover about starting a wall covering project?