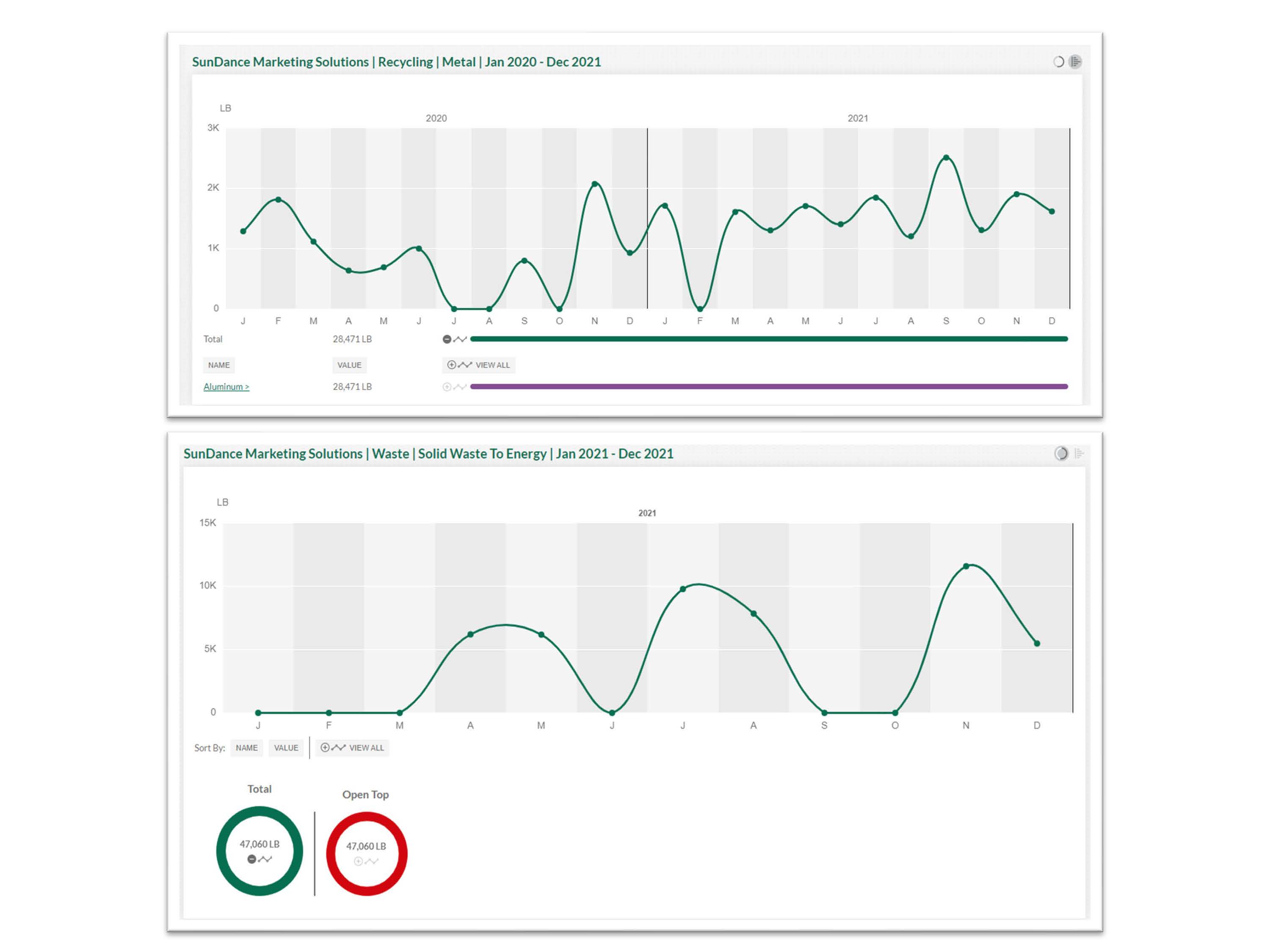 Here at SunDance, we're committed to our core values, including our commitments to live sustainably and maintain integrity. In the interests of being open and transparent, we wanted to pull back the curtain and show how we practice living sustainably every day. We've just finished analyzing our metrics for 2021 and wanted to share some of what we've done.
We'll start with a prime ingredient in our success as a commercial printer: paper. In 2021 we recycled 202 tons of paper. A single recycled ton of paper can save 680 gallons of oil, 26,500 liters of water, and 17 trees. That means we helped preserve approximately 137,000 gallons of oil, 5 million liters of water, and over 3000 trees.
Speaking of trees, in prior years our used pallets ended up in landfills, but we knew there had to be a mores sustainable option. In 2021, we partnered with NuCycle to recycle our wooden pallets and turn them into Enviro-FuelCubes® (EFCs), a fuel alternative to coal. We're pleased to report we've recycled 23.53 square tons of wood pallets with NuCycle within our first year of partnering with them. That's over 47,000 lbs of wood waste reused and transformed into fuel cubes and residual ash used for concrete production.
Electronic waste? In 2021 we partnered with Urban E Recycling for our electronic waste needs. Keeping electronics out of the landfills and reusing components is vitally important because some rare earth metals in electronics can be recycled and help to cut down on dangerous and polluting mining extraction. We recycled 1978 lbs of electronic materials in 2021. Even though battery recycling is different than electronics waste recycling, we also recycled 28 lbs of batteries: 16 lbs alkaline, 4 lbs NiCd, 1 lb NiMH, 6 lbs Li-Ion, and 1 lb Lithium.
Commercial printing also uses aluminum printing plates, which provide another recycling opportunity. We recycled approximately 9 tons of aluminum plate waste in 2021 - about as much as 558,000 aluminum soda cans. Speaking of soda cans, we recycle them as well in the office with a can crusher. We practice recycling at all fronts here at SunDance, from the kitchens to the production floor.
By changing some of our inks and improving our reclaim processes, we've lowered VOC emissions over 50% between 2020 and 2021! VOC stands for volatile organic compound and they're especially common in the manufacturing and printing industries. By reducing our VOC emissions, we're able to better protect our employees and provide the safest work conditions possible.
And finally, we donated almost $70,000 worth of products and time to organizations like AdventHealth, Canine Companions, and Segera Mission. We feel very strongly about giving back to our local community and worldwide partners.
We hope you've enjoyed learning a bit more about how SunDance practices integrity and sustainability initiatives to leave our community and world a better, greener place.