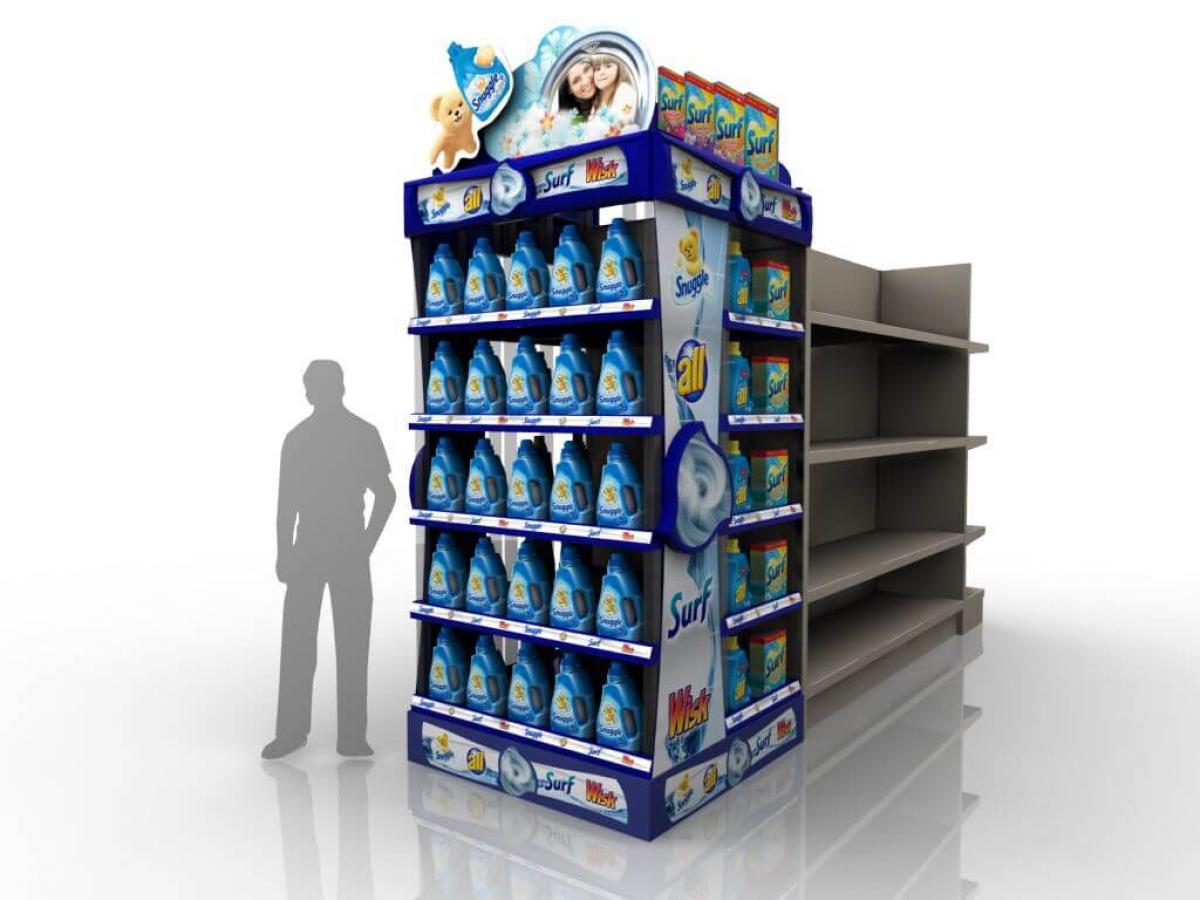 SunDance is your one-stop shop for your business's endcap display solutions. Designed to fit your specific product needs, our endcaps are built with your personalized brand message and can be custom-sized to fit into any unique store location.
Endcaps are end-of-row displays that are placed at the end of high-traffic aisles in brick and mortar stores. These promotional materials are aimed at highlighting your business and promoting your sales. The perfect accompaniment to a well-rounded marketing campaign, these endcaps are built to grab potential buyers' attention with exciting color, language, and design.
No matter what type of in-store promotional materials you need, SunDance can help increase your brand awareness through our impactful language and eye-catching designs. In addition to endcap displays, SunDance also offers the following custom displays:
Wall displays
Countertop displays
In-store fixtures
Point-of-purchase displays
Floor displays
Visual merchandising products
Why Use An Endcap Display
Endcap displays are very effective tools for in-store branding and awareness. With their compelling design and features, endcaps are created to catch the attention of customers walking by. Not only do endcaps communicate the benefits of your product and promote the awareness of a brand, but they are also unique and eye-catching enough to grab a potential buyer's attention.
Using end cap displays also provides is an effective tool to capitalize on consumer impulse buys. Your product will be housed within your display at the end of the aisle. This makes your product stand out from the competition and be more impactful within an area with similar products.
Stand Out with An Endcap Display
Since endcap displays are very flexible, they can be placed in any location you can think of. Perfect for grocery and supermarkets, these endcaps are very popular for businesses looking to kickstart a new product or brand. Many companies use endcaps to promote new, seasonal products or limited products using a creative new branding message.
With so much digital branding occurring these days - having a physical display within a store is a great way to reinforce your brand with current or new audiences. Not only will the endcap remind customers about your product, but it will also bring in new customers and increase your product brand awareness. Our creatively designed end caps will help your brand stand out from the crowd and get your product noticed!
Elevate Your Brand with An Endcap Display
SunDance uses a collaborative approach to create your endcap display that will elevate your brand in-store with language and design that is appealing and engaging to your target audience. From research and development to design and to print, the experienced SunDance team will guide you through the production process from start to finish. Our hands-on approach and attention to detail will ensure your endcap display will achieve your promotional goal.
Call us at 407-734-7444 or request a quote today to learn more about our endcap display options.