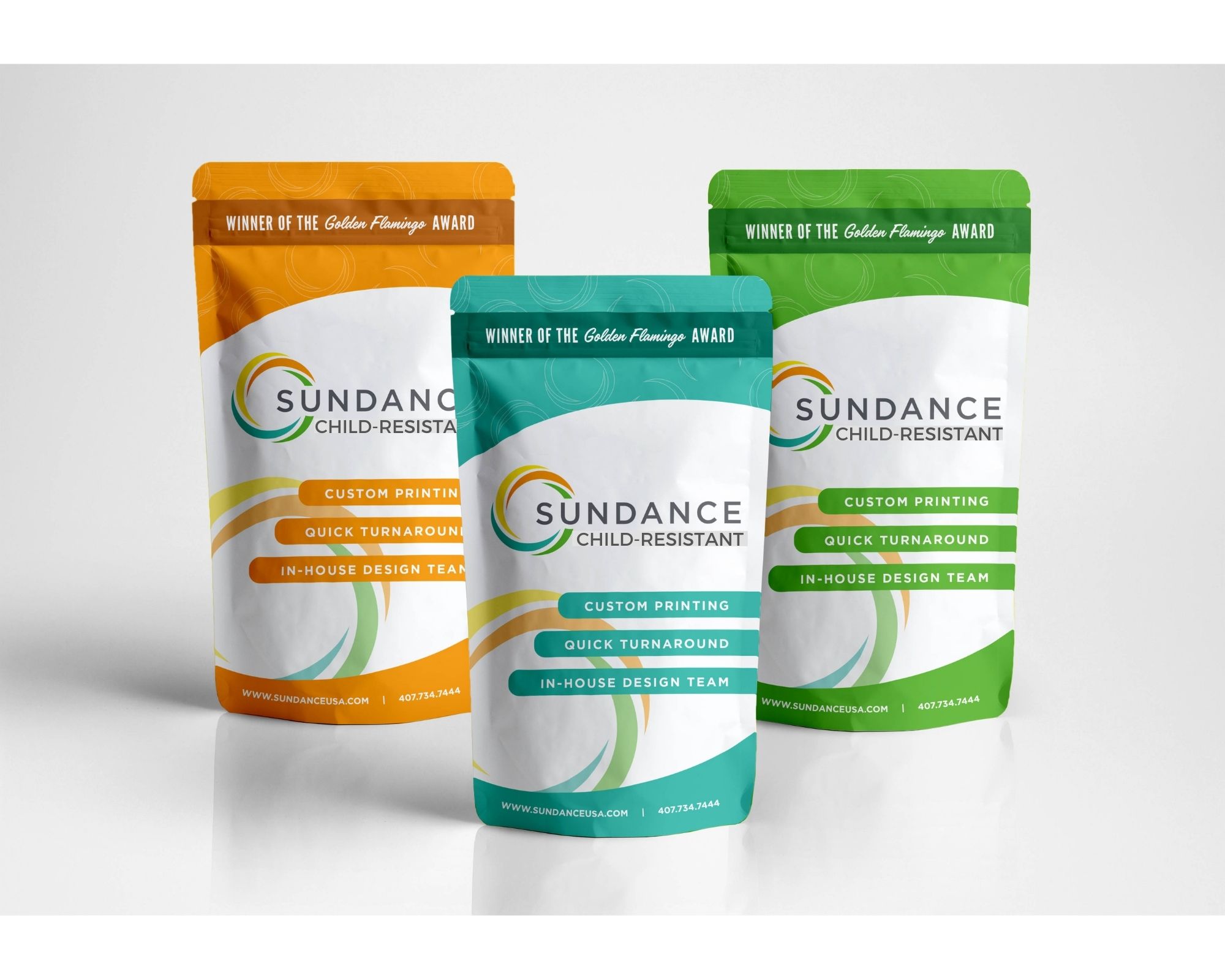 Packaging is the last line of defense to keep children away from potentially dangerous items like pharmaceuticals, vitamins, and household cleaners. That's why brands from a wide range of industries are turning to child-resistant pouches to protect their product and give parents peace of mind. These pouches also offer many design opportunities, allowing brands to safeguard contents without compromising packaging appeal.
Find out what makes child-resistant pouches different from other types and how this custom packaging solution enhances safety and branding!
What is a Child-Resistant Pouch?
A child-resistant pouch is a type of flexible packaging that features a resealable, child-resistant zipper, food-grade plastic, and durable construction. This creates a barrier, perfect for storing and securing products that are sensitive to oxygen and moisture, or emit strong odors.
Child-resistant pouches are used in a variety of industries, such as:
Lawn and Garden
Pharmaceuticals
Supplements
Cleaners
Detergents
The pouches are also available in opaque colors and custom options to suit different security and branding needs. Our 100% opaque films provide discretion and we also offer track & trace and security symbols to combat counterfeiting, an issue that affects the pharmaceutical market.
Packaging Benefits for Brands
Child-resistant pouches offer many advantages for brands that need their packaging to safeguard product contents — and look striking while doing it. Here are the most notable benefits of child-resistant pouches over other types of flexible packaging.
Security
Our pouches feature a hidden flap for adult fingers to grip and pull apart the locking mechanism. This provides a higher level of protection for children while allowing access for adults, thereby instilling more trust in your brand and product. Additionally, the 4mil thick plastic is resistant to tears to secure contents.
Storage
A stand-up design makes it easier to transport and store pouches in boxes, on shelves, or hanging from a peg. Plus, the reclosable zipper is perfect for multi-use products that need secured storing and increased shelf life. Pouches can also be in a 3-side or 2-side seal format. An advantage of the 3-side seal pouch is that the bottom can be left open for filling, which means manufacturers don't have to insert products over the zipper.
Freshness
In addition to security, the reclosable zipper and durable food-grade plastic also promote freshness by blocking moisture, light, and oxygen. Extend shelf life with packaging that properly seals it away.
Discretion
Opaque child-resistant pouches are great for products that need discreet packaging. We offer 100% opaque silver film with full-coloring printing (including white). Add custom graphics and a gloss or matte laminate finish to create an attractive packaging look while carefully hiding contents from children.
Visual Appeal
Last but not least, our digitally printed child-resistant pouches offer many design opportunities to add visual appeal. With full-color printing and unlimited customization options available, we're able to print crisp HD-quality graphics and vibrant colors across all outside surfaces of child-resistant pouches to make your brand stand out.
Multi-SKU capabilities are possible with our cutting-edge HP Indigo 25K digital press. Products with multiple flavors or constant regulation changes benefit from having no plate fees. Additionally, we can color match logos to ensure brand consistency as well as do spot holograms and spot gloss or matte varnishes for an eye-catching effect.
Less Plastic
Child-resistant pouches use less plastic than rigid child-resistant containers, which makes them a more sustainable packaging option. Not only do pouches require less material, but they also help lower shipping costs and greenhouse emissions over rigid containers.
Secure Your Brand with Child-Resistant Pouches
In today's competitive marketplace, brands need more than beautiful packaging to succeed — they must also prioritize safety. Instill confidence in your brand with child-resistant pouches. Not only are the pouches secure, but also stylish. Their durable construction, flexibility, and versatility provide brands limitless opportunities to market their product.
Call 407-734-7444 or request a quote for child-resistant pouches to secure your brand's competitive edge!