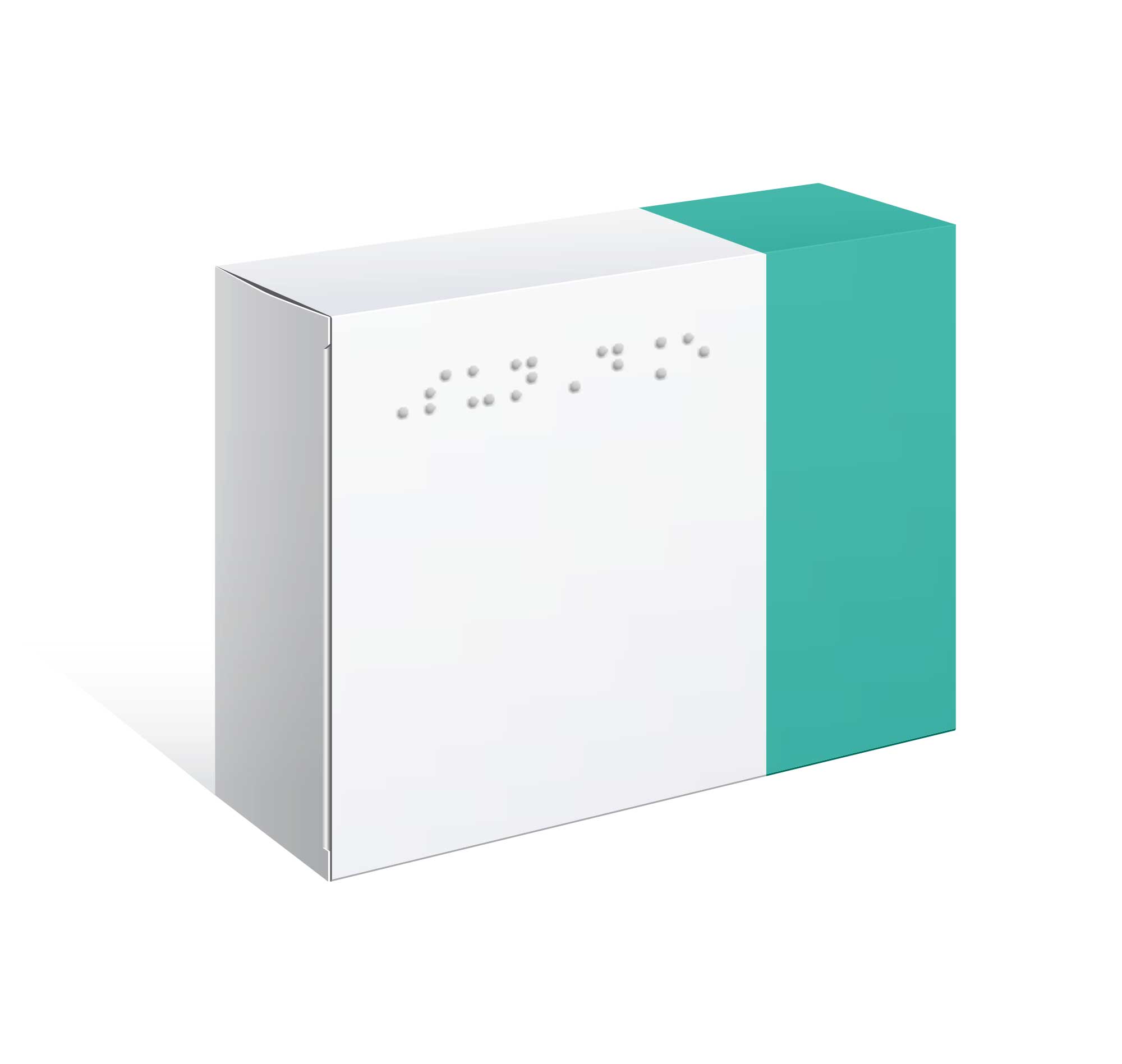 According to the World Health Organization (WHO), the number of people who are visually impaired is estimated to be 285 million, of whom 39 million are blind. Given this sizable population, different governments across the world have made the use of braille on medical packaging mandatory, however, Braille is also making its way onto cosmetic and food packaging. Learn more about braille on packaging to see what's involved and how your brand can communicate important product information to visually impaired customers.
The History of Braille
Louis Braille, a French educator and priest who lost his eyesight at a young age, invented a reading system for the blind in 1825. The braille system is reading and writing by touch where raised dots represent the letters of the alphabet. Braille also contains equivalents for punctuation marks and provides symbols to show letter groupings. The braille system established itself internationally and is now in use in all languages.
Pharmaceutical Packaging
In 2005, the European Union (EU) made it a requirement for braille to be on pharmaceutical packaging, however, the directive made an impact beyond the EU's borders. Responding to it's increasing influence, the International Association of Diecutting and Diemaking (IADD) implemented a Braille Task Force to research and develop a recommended standard for the paperboard, graphic arts, printing, and packaging industries in the USA and Canada.
The IADD, in cooperation with the Braille Authority of North America (BANA), officially released in 2009 a booklet of recommended standards which will be the basis of this braille packaging printing guide.
Braille Characters
Before we dive in, let's take a closer look at how braille characters work. The traditional braille "cell" of a braille character consists of six dots, positioned like the number "six" on a dice, in two parallel vertical lines of three dots each. They are numbered as follows:

From the six dots that make up the braille cell, 64 different characters can be created.
The reading direction of braille is the same as for regular type, and the rules for hyphenation that apply to regular typefaces also apply in braille.
Both the EU's guidance on braille requirements for labeling and packaging and the IADD/BANA guidelines for USA and Canada pharmaceutical companies, distributors, and marketing agencies recommend that an uncontracted braille system should be used. In uncontracted braille, every individual letter of the alphabet, punctuation mark, etc. is represented by its own braille character(s).
Letters - Internationally Standardized:

Numbers - Internationally Standardized:

Punctuation Marks:

Standardization
To establish a common standard throughout the USA and Canada, the IADD developed specifications ("IADD Can-Am Braille") which takes into account the major braille fonts currently in use throughout Canada, USA, and Europe ("ECMA Euro Braille"). For example:
The diameter at the base of the dot is 1.6 mm; this is also the diameter on the female matrix and the diameter of dots shown in the artwork file.

The dot spacing is exactly 2.5 mm (from dot center to dot center).

The character spacing amounts to 6.0 mm (from center to center).

The hyphenation spacing is 12.0 mm (from center to center).

The line spacing is 10.0 mm (from center to center) with a tolerance of +0.0 mm/-0.1 mm.
With regard to the braille's dot height, it's recommended that this is determined visually since the embossed carton board is likely to recover slightly over time. The maximum tolerance level is determined when the surface of the folding carton substrate starts to burst.
Dot matrix dimensions:
a = 2.5 mm

b = 2.5 mm

c = 6.0 mm between two letters of one word

d = 12.0 mm hyphenation

e = 10.0 mm + 0.0 mm /-0.1 mm line spacing
When positioning the braille message (in alphanumeric characters), the braille text must also be set in regular type outside the die-line. Reading direction and hyphenation rules for both braille text and regular type must be the same.
Technical Requirements
It's critical for braille dots to be clearly perceptible by human touch. While visually impaired consumers require very distinctive braille to enable them to read the text, embossing can cause breaks in the carton surface which could impair the legibility and visual aesthetics for sighted consumers. As a packaging printing company, our target is to achieve a balance so that both visually impaired and sighted consumers can easily read the braille message.
Material Selection
Generally speaking, long fiber, short fiber, internal recycled pulp, and post consumer (recycled) carton board can be used for braille packaging. It's important to note, however, that with all of these board types, it's not possible to prevent minimal variation in embossing on the same packaging carton or in the same production run.
Braille embossing
Braille text can generally be placed on any major surface of a folding carton, but it may not be possible to have it on more than one panel of any carton. While there are several ways to create braille on a packaging carton, the most common method is embossing. Opposite of debossing, the embossing process involves placing the carton substrate in between a 'male' die and a 'female' die, and applying force to create raised braille dots. It's imperative that the embossing is strong enough to ensure that a visually impaired person can read the braille dots.
Positioning of braille
The distance between the embossed braille and the center of the cutting and/ or creasing lines of the packaging carton must be 8 mm (measured from the edge of the dot). The position of the universal female matrix on the chosen panel of the carton is decided by the customer. Furthermore, braille texts can't be applied to locations on the carton where there are barcodes, labels, or perforations.
Amount of text
The number of available characters and lines for embossed braille text are determined by the dimensions of the folding carton. Below are measurements for braille lines and characters.
The number of braille lines on a main panel of the folding carton (measured in mm):
1 line: 22.6

2 lines: 32.6

3 lines: 42.6

4 lines: 52.6
The number of braille characters per braille line (measure in mm):
6 characters: 50.1

7 characters: 56.1

8 characters: 62.1

9 characters: 68.1

10 characters: 74.1

11 characters: 80.1

12 characters: 86.1

13 characters: 92.1

14 characters: 98.1

15 characters: 104.1

16 characters: 110.1

17 characters: 116.1

18 characters: 122.1

19 characters: 128.1

20 characters: 134.1
For more information about the implementation of braille into artwork files, please refer to the IADD/BANA recommended standards.
Braille Embossing and Packaging Services
Embossing braille on packaging must be done with secure and efficient production processes to ensure compliance with legislation and best practices. SunDance is an Orlando-based packaging design and printing company that offers quality materials and embossing services to achieve legible braille messages.
Contact us today to request a quote or call us 407-734-7444 to learn more about our embossing and packaging services!