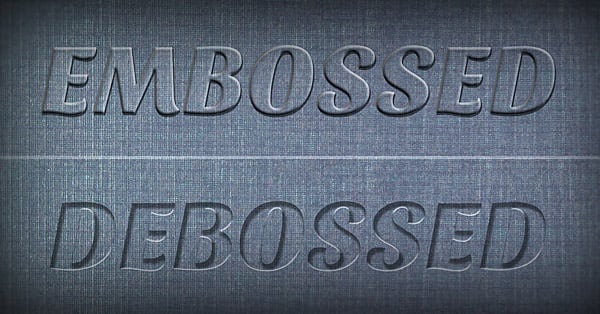 Embossing and debossing are two stamping techniques we offer to add a special tactile effect to business cards, stationery, custom packaging, and more. While they create different looks, they both add a premium quality to print products. Embossing and debossing are effective for adding a luxurious look and feel to print products, in particular for gourmet, artisanal, and high-end brands and products. See how these stamping techniques compare and the ways they can differentiate and enhance your brand's image.
Embossing vs Debossing
"Embossing" refers to the stamping technique of creating a raised impression on the print product. It's used for grabbing attention to a particular design element, like a logo or graphic, and enhancing the perceived quality of a brand or product. The embossed element is achieved by stamping a metal die onto the back of the paper or card stock material to create the raised image.
"Debossing" is the opposite - it creates an indented impression on the print product but it's just as eye-catching as embossing. Instead of the material being stamped on the back with a metal die, it's stamped on the front to create the indented impression. The raised or indented area on your print product can be printed with ink or have foil applied for further customization. You can also leave it untouched which is known as a 'blind emboss' or 'blind deboss' for an elegant, minimalist look.
Flexo In-Line Rotary Die Cutting
SunDance's Rotary Die system is a high-tech inline process that's used while printing or finishing die-cut pieces in large runs. The Flexo Rotary uses a flexible metal die that creates scores (i.e. indentations onto the paper where the fold line will occur), cuts, or even removes sections of the print product, all in one pass. In addition to these capabilities, the Flexo Rotary makes complex projects more cost-effective and more precise in larger runs.
It's important to note that paper and card stocks work particularly well for embossing and debossing because they're thick enough to hold the raised or indented pattern. Film materials are too flexible and will resort back to its original shape. We offer a wide assortment of paper and card stocks to fit different looks and budgets.
Embossed and Debossed Business Cards
Business cards work particularly well with both stamping techniques, although embossing is more popular with this type of print product. Embossed business cards allow you have to have the reverse image on the back of the card and the embossed image on the front. However, debossing on thick card stock may only create the indented impression on the front of the card. While it can leave the back of the card smooth, it does allow for more space to make notes or write down information that they might need later like an appointment date/time.
You can't go wrong with either stamping technique for making business cards stand out. Before you choose though, it's important to consider what type of look you're going for on the front and back of your business cards and how much blank space you want.
Get Embossing and Debossing
Make your brand look and feel different from competitors with beautifully embossed or debossed business cards, stationery, product labels, and more. If you're unsure which stamping technique is right for your print products, let us know and we would be happy to guide you to an option that's best for you. Start your embossing or debossing project today by calling us at 407-734-7444 or filling out our contact form.