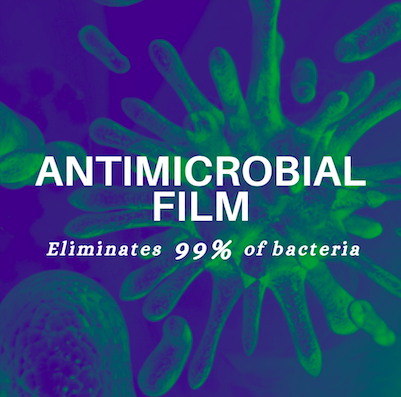 In the midst of coronavirus pandemic, we are all searching for ways to stay safe and healthy. Washing our hands continuously, disinfecting every product we touch, and wearing gloves to prevent the spread of bacteria have become part of our daily routine. Ease your customers' anxiety and reassure their confidence in safety measures by using an antimicrobial film in your products. We now offer an antimicrobial film that kills 99% of bacteria.
Antimicrobial
Film
Functionalities & Benefits
The anti-bacterial agents in the film base add a property of antimicrobial protection against bacteria, fungi, and mold. The film eliminates 99% of bacteria that comes into contact with the film- maintaining the film free of bacteria no matter how many hands touch the product. This antimicrobial film can be used in numerous of products and in a wide range of industries. The following are a few examples of its wide application options:
Restaurant menus: One of the easiest way to prevent bacteria from proliferating through a restaurant is by using antimicrobial film on all menus. Restaurant menus are touched by hundreds of people on a daily basis, with the film's ability to kill bacteria you will not only be protecting the customers but your staff as well- making your restaurant environment healthier and more productive.

Hotel in-room collateral: Keeping a hotel room clean and disinfected is of top priority. In-room collateral with antimicrobial film can be used as a safety measure designed to address a broad spectrum of bacterial and sanitary concerns. These high-touch items would remain free of bacteria no matter how many hands touch it.

Hospital/Physician communication material: A hospital's main concern is keeping their patients and staff healthy and safe. Hospitals can use this bacteria fighting film for all marketing materials such as welcome letters/folders, office brochures, physician cards, and many more. The antibacterial film can ease the threat of spreading an hazardous bacteria throughout the hospital or physician office.

Packaging and labels: Antimicrobial film is a growing trend in the packaging and labels market. The film is used to enhance the safety in food, healthcare, personal care markets, and more. Packages coated with antimicrobial film prevent the microbial growth thus, extending the shelf life and enhancing the safety of the packaged good.
Door handles/ handrails/ faucets cover: No matter the business, taking precautionary measures against the spread of bacteria is essential. Our antimicrobial film can be used as adhesive wrappers for high-touch objects such as: door handles, handrails, faucet handles, and more. The adhesive antimicrobial film serve to provide an extra coat of protection on handles and surfaces within your facility.

The antimicrobial film's powerful protection is a revolutionary solution to all industries.
Order Your
A
nti
microbial Film Product
Today
Do not miss out on our exclusive and revolutionary high gloss and matte antibacterial film solution. Due to its endless functionalities, this antimicrobial film is sure to benefit your business by assuring your customer's confidence in safety measures. Keep your customers and staff safe and healthy by eliminating 99% of bacteria with our antimicrobial film.
Contact us today or request a quote to order your antimicrobial film product!