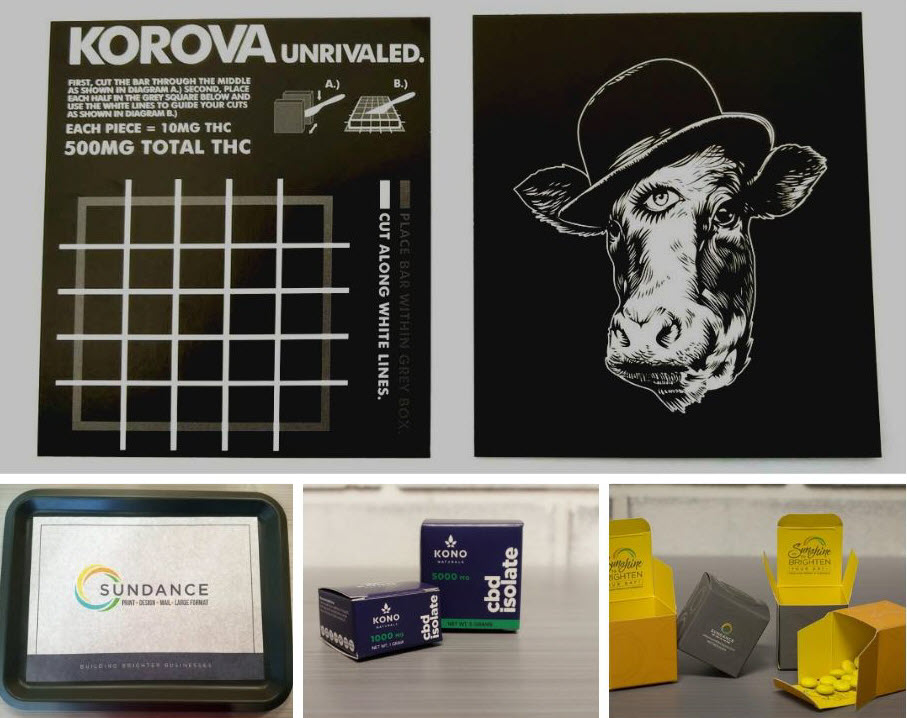 As a food manufacturer, restaurant owner, or food service business, you want to make sure that you can brand effectively without compromising the taste and safety of the foods you serve. Sundance's food-safe printing technology ensures you can do exactly that. We offer a variety of products and services that allow you to make the best use of limited space that's available on your food packaging. Let's review U.S. food regulations and take a closer look at several of the food-safe printing options we offer so you can move confidently forward with your food packaging project.
Food Regulations: FDA vs USDA
You can't talk about food-safe printing without government regulations which is why it's crucial to understand which government agency will regulate your food product. The two main government agencies to know are the Food and Drug Administration (FDA) and the United States Department of Agriculture (USDA).
The FDA regulates drugs, dietary supplements, and food products by ensuring they're "safe, wholesome, sanitary, and properly labeled." The FDA is responsible for regulating and creating regulatory standards for the 'Nutrition Facts' label on all processed foods created and sold in the United States.
The USDA works to support the American agricultural economy and "provide a safe, sufficient, and nutritious food supply for the American people." The USDA mainly oversees meat, poultry, and eggs. But to make things a little more confusing, the Center for Nutrition Policy and Promotion (which establishes Dietary Guidelines) and the Food and Nutrition Service (which administers SNAP benefits, aka 'food stamps') are both under the USDA.
A common misconception is that the USDA is the primary inspection agency for food in the United States because the USDA logo is often seen on meats and organic certifications, but it's actually the FDA that regulates over 80% of the U.S. food supply - dairy, seafood, produce, packaged foods, bottled water, and eggs - because of processing and packaging. Another common misconception is that the FDA tests the nutrition (the chemical breakdown) of every food product being sold in the United States. In reality, submission of the nutritional data of your food product to the FDA is completely voluntary. The FDA only requires that 1) the food be labeled with accurate nutritional facts and 2) the nutritional facts are properly displayed on the food packaging.
Since the FDA regulates food processing and packaging, they also have rules regarding direct contact and non-direct contact with foods which is why our food-safe printing offerings use materials, inks, finishes, and processes that meet FDA standards. See how our food-safe printing can create unique and memorable food packaging while giving you the peace of mind that it's not affecting the quality or safety of your food.
Food-Safe Printing Makes Brands More Memorable
Food manufacturers, restaurants, caterers, and other food-related businesses are facing increasing competition which is why brand differentiation is key to staying relevant to customers. Having a great-tasting product or using quality ingredients isn't enough to stand out anymore - you need to create a brand experience that stays with the customer long after they consume your product or leave your place of business. By incorporating food-safe printed products like tray liners, inserts, wraps, and edible inks, customers not only will have an up-close interaction with your brand, but they're more likely to snap a picture of it and share on social media or include it in their online reviews which furthers the reach of your brand to potential customers.
Tray Liners
Used mostly at all the top fast-food chains, tray liners have become one of our most popular items for creating more memorable in-dining experiences. Made with #50 food-safe paper, our tray liners ensure that you're able to get your branding where it's most effective: directly in front of your customers. Placed within the trays you serve your food on, tray liners serve a practical purpose as well as a marketing benefit by keeping slips and spills to a minimum while communicating directly with customers during their dining experience. If you have different sizes of trays, we can provide different tray liner sizes too.
Whether you use them to highlight offers, promote sales, or deliver engaging, entertaining content that enhances the in-dining experience, custom printed tray liners are direct, to-the-point, and effective for branding.
Inserts
Retention is the name of the game when it comes to our inserts. Our in-package inserts are made with the same expertise of packaging design, digital printing, and lamination we apply to our services across the board. With food-safe substrates, inks, and coatings for inserts, the integrity of your product is never compromised. Since inserts are in direct contact with the food, as opposed to options like tray liners which have indirect contact, we ensure that you're getting the safest production methods available on the market.
In-package inserts are your opportunity to continue building a relationship with your customers after they've already received their goods. You can use them to deliver further valuable information about the products or your company, add discounts, offers, and samples within the packaging itself, or create a truly memorable unboxing experience with a 'thank you' note or some other kind of message.
Sandwich Wraps
If your business produces food on the go, you want to make sure that you take full advantage of every opportunity you have to communicate your brand. Your customers might not be sticking around long enough in the business premises itself, so branding your sandwich wraps can increase brand exposure while they enjoy their food and wherever they may be. We produce sandwich wraps of all shapes and sizes which readily provide a convenient short-term package for your customers while also attracting more attention to your brand.
As with our inserts, we focus on using the safest inks and printing materials with sandwich wraps since they are in direct contact with the food you're serving. Of course, we also ensure that we're using grease-resistant, durable papers to give your customers maximum comfort and minimal mess while enjoying their food. Our food-safe tissue is suitable not only for sandwich wraps, but also burger wraps, basket liners, and other food tissue papers that come in direct contact with the product.
Edible Ink
From decorating cakes to adding your branding directly onto the surface of the products you're selling, edible ink is offering food companies a whole new opportunity to effectively and safely brand their foods. All edible inks we use are fully FDA-approved and rated safe for your customers to eat and we have printers that are designed specifically for this purpose. There are no chances of cross-contamination with our other food-safe inks and it's safe to ingest any amount of the ink you want to use.
Edible inks are a revolutionary new tool for food branding and messaging as it allows you to proudly display your logo on cookies, cakes, mints, candy, chocolates, and many other products. It works by printing the desired design with edible ink onto sheets of icing or edible paper which can be easily and quickly applied to most foodstuffs. Give your products a truly unique look and incorporate your brand into the food's presentation with our edible ink printing which produces crisp, clean visuals and high image quality to ensure your brand comes across clearly (and deliciously) on your food product.
Delivering High-Quality Food-Safe Printing
Sundance's food-safe printing services are ideal for any food business that wants to take their brand and food packaging to the next level. Not only do we use the latest food-safe technology, including inks and coatings, but we also apply our vast experience and expertise in digital printing to create a truly impactful branding experience for your customers. We offer a variety of short-run and prototyping services to ensure you're fully happy with your design before moving forward with full-scale production runs. Need fulfillment services? Sundance can also help you assemble, pack, and ship your food-safe printed products to wherever you need them to go, and can even store the items until you're ready to use them.
From large chains and high-end restaurants to caterers and party planners, we have solutions that can help any food business maximize their brand experience with FDA-approved materials and food-safe printing. No longer do you have to choose between giving your brand the attention it needs and giving your customers the taste and safety they deserve. Our new options make it easier than ever to incorporate both in your food branding experience. Get started on your food-safe printing solution today by giving us a call at 407-734-7444 or filling out the contact form!