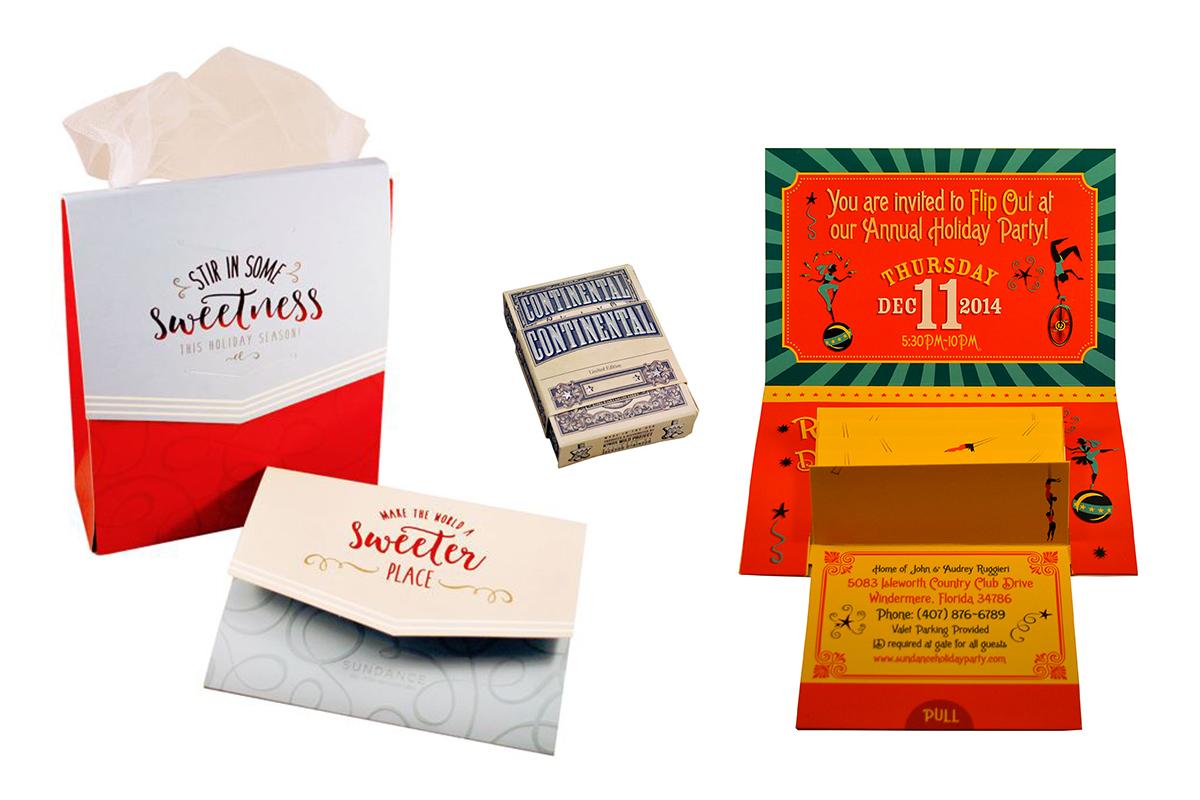 Orlando, FL (12 June 2017) - SunDance (sundanceusa.com), an Orlando-based firm offering design, print and mailing services, today reported that it was the recipient of three prestigious Foil & Speciality Effects Association (FSEA) Gold Leaf awards, chosen from more than 300 entries from around the world across 36 different categories. The 24th Annual Gold Leaf Awards were presented at an Awards Banquet during the IADD•FSEA Odyssey on May 17-19.
Since its inception in 1992, the Foil & Specialty Effects Association has worked toward industry awareness and growth. It serves as a resource and educational platform for decorating technologies, including foil stamping, embossing, cold foil technologies, specialty coatings, laminates and laser cutting.
"We are again honored to have received these awards," said JohnHenry Ruggieri, Managing Director. "I especially want to congratulate our creative and production teams, who again have excelled on behalf of our customers, our company and the industry as a whole. You can be sure we will again enter the competition next year, and I am sure we will have more stunning examples to submit."
FSEA Gold Leaf awards are a means of recognizing exceptional performance in three categories: Design, Execution and Level of Difficulty. SunDance submissions garnered awards for Most Creative Use of Foil and Embossing—Folding Carton for a playing cards box; Most Creative Use of Special Diecut for the Cirque Do Sundance/Holiday Invite; and Most Difficult Use of Foil Stamping/Embossing – Greeting Card for the SunDance 2017 Holiday Boxes.
The Details
Cirque Do Sundance/Holiday Invite (Gold Award) was hand-folded and glued, and featured a special accordion die cut for the insert as well as double aqueous coating. It was produced on 80-lb. gloss cover (bright yellow envelope). In addition to the award, this unique mailer garnered rave reviews from recipients!
SunDance 2017 Holiday Boxes (Silver Award) included a die-cut gift bag with a white fabric handle. The gift bag also had die-cut slits in the front for insertion of a wooden spoon. The gift bag contained a holiday card that featured red foil lettering, embossing and an accordion-style die cut. It used 100 lb. dull cover stock, foil from Infinity Foils and dies from Universal Engraving.
Continental Deck of Cards (Bronze Award) is a die-cut playing card box that features embossing and silver foil all over the carton, a belly band that is also embossed and foiled, and a deck of playing cards inside. It used UV Ultra li 17 smooth white paper stock, foil from Infinity Foils and dies from Universal Engraving.