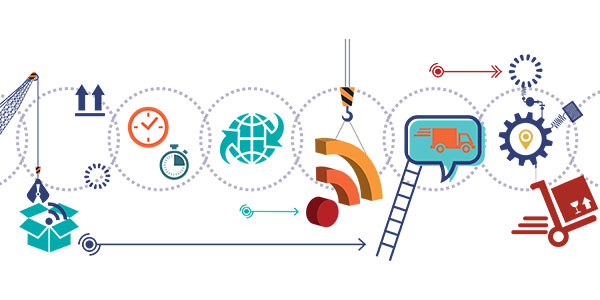 Fast food restaurants are out of chicken wings and french fries. Thai restaurants are having trouble getting boba for their ice tea. Tourists in Alaska and Hawaii are having difficulty renting cars for their vacations. Printing companies are having difficulty getting paper and ink for their clients. Believe it or not, all of these shortages are related. The global shutdowns from the effects of COVID-19 have cause all of these diverse industries to experience shortages. The shortages are due to a supply chain problem and just like all chains, the global supply chain is only as strong as its weakest link. The supply chain for printing paper is an excellent example of what's happening to companies worldwide.
Understanding the Supply Chain Situation
SunDance needs paper to manufacture the marketing materials, labels, custom packaging, and other products we create for our clients. Before COVID-19, during the average week, we'd have any number of delivery trucks pulling up to our docks dropping off skids and cases of paper. The paper came from a paper merchant who got it from a converting plant who got it from a paper mill. The paper mill got its raw materials from a pulp mill. The pulp mill got wood chips, bark chips, and logs from a timber terminal who got those materials from foresters and tree farmers who grow trees. The employees at the paper merchant, converting plant, paper mill, pulp mill, timber terminal, and tree farmer were all negatively impacted by the COVID-19 pandemic. But the paper industry was not the only one affected by the pandemic.
Companies supplying chemicals, inks, and all the other materials we use to produce our printed products are experiencing the same supply chain problems. In addition to issues in each industry, collectively, each of these suppliers is dealing with transportation issues as the trucking, shipping, and railway companies are recovering from their own COVID-19 related issues.


Understanding the Transportation Situation
During the pandemic, demand for PPE, home office supplies, computer equipment, and other materials increased. These materials were imported in shipping containers from other countries. As U.S. manufacturing slowed, fewer products were shipped out of the country; thus, the international supply of shipping containers is out of balance. So, even if the supplies we need to produce the marketing materials, labels, custom packaging, and other products we create are available for export, there are not enough shipping containers available to meet demand. A shortage of shipping containers leads to an increase in costs. However, the shipping containers are just part of the transportation problem.
Labor shortages at ports, warehouses, and distribution centers, due to COVID-19 have resulted in another problem. These labor problems have led to a bottleneck at the country's largest port. Over 34 percent of all container traffic at water ports in the United States comes through the ports in Southern California. These containers are then loaded onto trains and trucks and shipped around the country. So, because COVID-19 impacted the employees at these transportation companies, once the materials we need to do our job are produced and shipped, they sit in a cargo container on a ship off the coast of California for days. Between the shipping container problem and the backlog at the ports, the average price worldwide to ship a 40-foot container has more than quadrupled from a year ago.

Understanding the Labor Situation
The labor shortage extends beyond the transportation industry and our suppliers. According to a recent article published in the Wall Street Journal, "Worker shortages are contributing to supply-chain bottlenecks and higher prices for businesses and consumers." A Chamber of Commerce survey found "that 90.5% of companies said a lack of available workers was slowing the economy in their area." Twice as many as cited pandemic issues.
While the reasons for the labor shortage have been hotly debated, the problem itself has impacted companies in every economic sector. From restaurants to retail, chemicals to commerce, financial services to forestry, health care to hotel staffing, commerce throughout the entire country has been affected.
Finding a Solution to the Supply Chain Situation
Although we are faced with many challenges, at SunDance, we will never start from no. After all, our core purpose is to solve problems. We have taken several steps to help mitigate the supply chain situation. First, we know open communication between ourselves and our clients is paramount. While we want our clients to understand our situation, we know you are also likely experiencing your own supply chain problems. While many of these conditions are beyond our control, there are ways we can work together. When our current and prospective clients communicate directly with our Sales Executives with planning and forecasting needs, it helps all concerned navigate this situation effectively.
Second, we have a close relationship with our partners. This allows us to know what's happening with their supply chain so we can help our clients make informed decisions regarding the paper stock, ink, and printing process best to meet their needs. Integrity and transparency are in our DNA.
Third, at SunDance we thrive to be innovative. We have invested in new equipment and technology to provide our clients with multiple options for producing their marketing materials, labels, custom packaging, and other products. Perhaps a product historically made using offset lithography can now use digital printing or vice versa. This, also, may be an excellent time to explore additional substrate options.
Fourth, SunDance has several contingency plans to mitigate the situation when it comes to the labor shortage. First and foremost, we take pride in finding and retaining highly motivated, high-energy talent. We offer competitive pay benefits, medical and vision insurance, and a 401(k) to attract and keep the best employees. Our profit-sharing plan gives employees a share in our profits based on our quarterly earnings. These employee benefits and initiatives allow us to maintain incredibly low employee turnover.
The Future of the International Supply Chain
The supply chain situation is causing problems for industries around the world. When will we see an improvement? According to Whitehouse Economists Susan Helper and Evan Soltas, "Hundreds of thousands of small and large businesses have to reopen, millions of laid-off workers have to find new employers, and manufacturers have to bring back production lines idled during the pandemic. Such changes take time."
Improvement in the supply chain will vary by industry. As the paper, ink, and chemical sectors recover, SunDance will keep our current and prospective clients informed. However, you can rest assured SunDance will do whatever it takes to get the job done right.
Call 407-734-7444 or request a quote online! We are happy to answer any questions you might have.