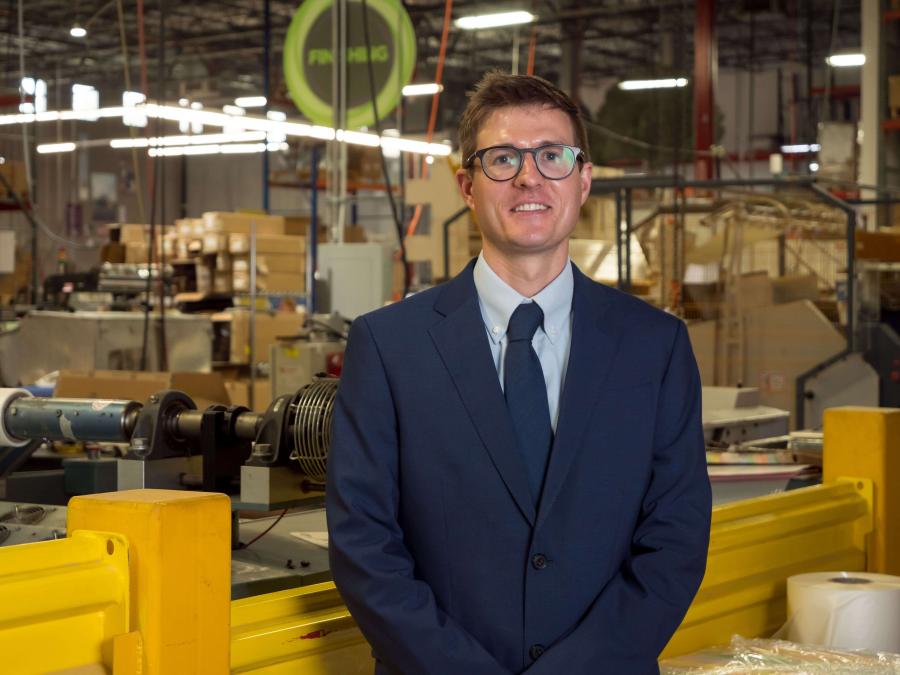 We recently had the pleasure to sit down with one of our own, Thomas Calvert. Before joining the SunDance team, Thomas worked for six years at a Kansas-based direct mail advertising company. The company's small size allowed him to learn all of the steps involved with the direct mail process such as sales, job quoting, account management, and more. He enjoys talking and planning with customers about direct mail marketing to produce successful results.

SunDance: What kind of things should I look for when researching a direct mail provider? Say I'm a medium to large business. I have a short list of direct mail companies that I want to use. What are some things that I should look for?
Thomas: The number one thing that's important is you want to look at their capabilities. You want to look at your project as a whole and you're going to need a list. You're going to need printing. You're going to need someone to address and then someone to take to the post office.
With all of those, you could actually work with four different companies. You could work with a list person, a print company, a company to address, and then most likely that company would take it to the post office. One thing to look at, is find a company that can do all of it. Someone that can provide you a list, someone that can print the card, address it and then take it to the post office.
SunDance is an example of that. Where if you've got a direct mail campaign we can work with you on all the steps and we can even do design. That's one thing, we can do graphic design. That's kind of a big thing to look for, is someone that can handle all the steps so that you're not having to correspond with three or four different people for one campaign.
SunDance: And what are some of the best practices when integrating a direct mail campaign with other marketing campaigns like online marketing?
Thomas: Yeah, I have conversations a lot with people that say, "Oh I don't use direct mail." One thing to be thinking about is you don't want to just use direct mail, you want to use direct mail along with all your other channels. If you're doing a lot of Facebook, a lot of digital marketing or also you've got a print brochure that you hand out, you should also have direct mail as some part of your channel.
If it's prospecting, one thing that people forget about is you could use direct mail for your current customers. A lot of people forget to touch base with their customers regularly, and these are the people they're doing work with and you send them a little thank you note for all the jobs or you send them a Merry Christmas card or a holiday card. Really it just needs to be a part of your overall marketing goal. It doesn't need to be the only thing you do. Then you just mix it in with everything.
Thomas: The story I get on that is Amazon. A couple of years ago they sent me a letter. Amazon's a huge digital company, but they are still using direct mail. It was a letter in an envelope with a color logo, it might have been about Prime or something like that, but that's just an example that even Amazon is using direct mail.
SunDance: What are some ways that a company that does direct mail or maybe before they do direct mail, I'm not sure what the timing would be, but in your suggestion, what would they do to optimize their distribution list?
Thomas: You always want to make sure that regularly your list is ran through what we call NCOA, the National Change of Address. That's something that people can fill out with the post office to update their address. You should always make sure that your list is regularly up to date with the NCOA.
Another thing you can do is just keep your data clean, make sure you don't have a lot of duplicates in there. Make sure you've got first and last name and all that for your customer. Then a little technique that you can do is every once in a while send your list out like a first-class. Send your campaign out first-class and you're going to get returns on all of those. So any address that maybe people didn't fill out through NCOA you're going to get that returned and if it's a bad address, you can update your list from that. You just want to make sure your data is not getting stale or old.
SunDance: In your experience, are there any common sizes or paper sizes that work better on the direct mail side of things?
Thomas: If we're talking about a postcard, I typically steer people into a 6x11 postcard. That's about the largest size you can send at the letter rate. You can still get that cheap letter rate postage. If go any larger, it becomes a flat. The thing with the 6x11, if you're thinking about a number 10 envelope, which a lot of your business mail comes in, that 6x11 is larger ... If you've got a stack of envelopes, the 6x11 postcard, you're going to see the top of the card, you're going to see the side of the card, and so the goal is to stand out. That size is definitely going to stand out.
A lot of people when they think postcard, they think 4x6. That's smaller than a number 10. In a lot of cases that's just going to get lost in a stack of mail. I really tell people 6x11. If we're thinking of postcards, 6x11 size. Still get that letter a postage. Any larger, you'll see a lot of people send 8.5x11 postcards. That does stand out. That is really attractive, but you're going to have to pay a lot more on postage. That's going to be a flat rate postage.
Then for paper, definitely, you want your message to match your paper. If you're a nonprofit wanting to send out an appeal, you want to use a nice paper, maybe a linen weight, thick stock. You want people to get the feeling ... A lot of people can tell what a typical campaign costs. They can tell that, that prospect or that company, they spent some money on sending me something. And that goes a long way. If a recipient gets it and they're like, "This is a cheap letter. This is a cheap envelope." They can tell.
Direct mail, you're going to spend money on postage and you can definitely ... Just look at how much ... Everybody should have how much money they need to spend to get a client. $1, $2, $5, whatever it is. You need to spend that money and make sure that the piece looks really nice.
SunDance: With SunDance, are there any limits of the number of direct mail pieces or the size of the piece itself?
Thomas: The limits, I talked a little bit about the letter rate, flat rate, that's the size. For at SunDance, we really will print any mail any quantity for you. We don't necessarily have quantities. For with the post office, you do need to watch a couple numbers. If you're going to send it out pre-sort or bulk rate, that's the most postage saving. It can be anywhere from $0.18 to $0.30. The minimum on that, it's got to send more than 200 pieces.
Now the next postage rate up is first-class pre-sort. That's where you put a barcode on it and it's going to deliver a little bit faster than pre-sort standard or bulk rate. That minimum is 500. So those are a couple ... those are set by the USPS. If you look at your list, it's got to be more than those two minimums in order to qualify for that postage rate. But besides that, all those, there's just a difference between letter and flat rate with the post office, but that's kind of that on size and quantity.
SunDance: SunDance is an all-in-one direct mail service. You won't have to work with any other third parties to get a direct mail campaign going, correct?
Thomas: Yeah. That's what I was going to circle back on, was third party sender. If you're a local dentist and you want to send out a direct mail campaign, Sundance can can help you do the design on the postcard. Then with the list, I'll have a conversation with you on who you want to target. Who is your ideal new patient that you want. Is it an age? Is it an income? Who do you want to target with that, so we can get to the list. Then we'll print it. We'll print that postcard full color, make it look nice on nice thick stock, and then we'll take it to the post office. We'll handle all the steps of the campaign.
SunDance: Do you see any trends happening over the past two years being in the space? On the direct mail side?
Thomas: The trend that I see is that, in my opinion, the mailbox has never been more crowded. There's all different types of companies are using direct mail. They're still using it. It's still needs to be something that companies and marketing people consider. They maybe went away from it when digital was hot, but now you just need to make sure you're using it. It goes along with all your other things you're doing for marketing.
Have a question about how SunDance can help with your next direct mail project? Call the number on this page today!