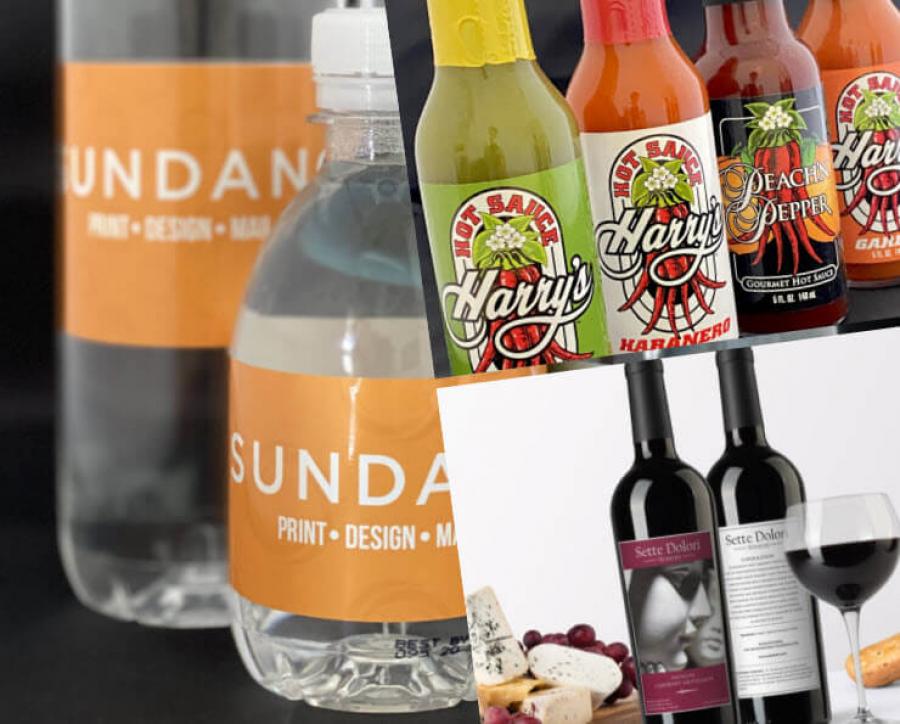 Product labeling has a very specific purpose. It helps to market a product while providing the information and messaging necessary for the customer to understand the product's use and ingredients. While it may seem like a simple process to place a label and ingredient list on a product - it can become a very complicated and involved process. Product labeling is a significant part of the product life cycle and can involve a variety of moving parts and printing processes.
At SunDance, we know that labels are more than just the basic names and ingredients listed on a product. We take pride in every product we work with. We can adjust our label services to include a wide selection of materials to ensure your labels achieve your specific project's goal. We offer labels for the following products:
Paper Labels
Film Labels
Foil Labels
Clear Labels
Weather Resistant & UV Labels
Food Safe Labels
Promotional Stickers
Labels need to speak as the representative for both the product and the brand. We understand that there is no "one size fits all" for product packaging and product labeling. Your custom label needs to be unique to your specific product, branding, and goals. At SunDance, we have the team and infrastructure to make that possible.
Why Choose SunDance Custom Labels?
At Sundance, we are more than just a commercial printer or a design agency. With over a decade of experience and a mission statement to provide superior quality print products to all our clients - we are the best choice for any client who wants a trustworthy vendor who knows the business. When you choose SunDance for your products custom label, you will receive our team's dedication and innovative services that come with unparalleled service. Below is a list of attributes that sets SunDance custom labels apart from the competition:
Digital labels: From small to large product runs, our digital labels will reduce label inventory and the possibility of waste. No matter if you need 20 or 20,000 labels - we will provide any number when you need it.
On-demand printing: With new products come additional prices for marketing, labels, etc. However, with our services, you won't have to worry about additional printing fees. With no print plates and no setup fee - we can provide you with on-demand printing without the extra cost associated.
Personal touch: At SunDance, we make sure every single job is personally handled by one of our experts. Every client speaks with a print and design expert, which eliminates the risk of any printing upload errors and offers you the opportunity to make sure the final product is exactly what you want.
High quality: For every project produced, we only use top of the line equipment. From our digital HP Indigo printer to our large format HP Latex and Heidelberg 6-Color Speedmaster Press, we are equipped with the best products for any product labeling.
Multiple SKU runs: No matter how many products or varying labels you need, we offer multiple runs of SKUs. Speak to your customer from the shelf and easily manage your products and inventory.
Targeted campaigns: Combining our printing capabilities with digital marketing tactics, we can run specialized and targeted marketing campaigns with your packaging. This is something we are able to provide without any additional fees, combining both packaging and marking together in one!
Flexible packaging: From a new product to a refresh or rebrand, our experts will work with you to find the best packaging option available. With endless substrate possibilities with our line printer, we can print on almost any material from paper to plastics to even wood and velvets.
Custom shapes: Try some of our unique finishes and die-cut options to make your product stand out against the competition.
The Future of Printing
SunDance is always changing and adapting to the needs of the market. We believe digital printing, sustainable options, and flexible packaging are the industry's future and we are primed and ready to bring these services immediately to our clients.
We have seen our clients come in with smaller SKUs, request quicker turnarounds, and transition into lean business practices. These customers are shifting away from carrying high dollar inventory in their warehouses and are looking at on-demand printing of small product batches. While product labels will always be necessary - it is vital to have the ability to provide flexible packaging and multiple printing options for clients.
Clients and consumers are trending towards products with minimally processed or are created in a ecofriendly or sustainable way. As the first Sustainable Green Partnership (SGP) certified offset printer in Florida, we are no strangers to "going green." We pride ourselves in eco-friendly practices and only using what is necessary for every job. Using digital printing also helps us realize this goal, as we can drastically reduce waste.
For your product labels to stand out, you must create packaging unique to a particular region, consumer, and brand. To compete, you need to catch the consumers' eye with a mix of convenience, targeted marketing, and sustainability. At SunDance, our product labels stand out as we can offer your business the most innovative printing and marketing techniques.