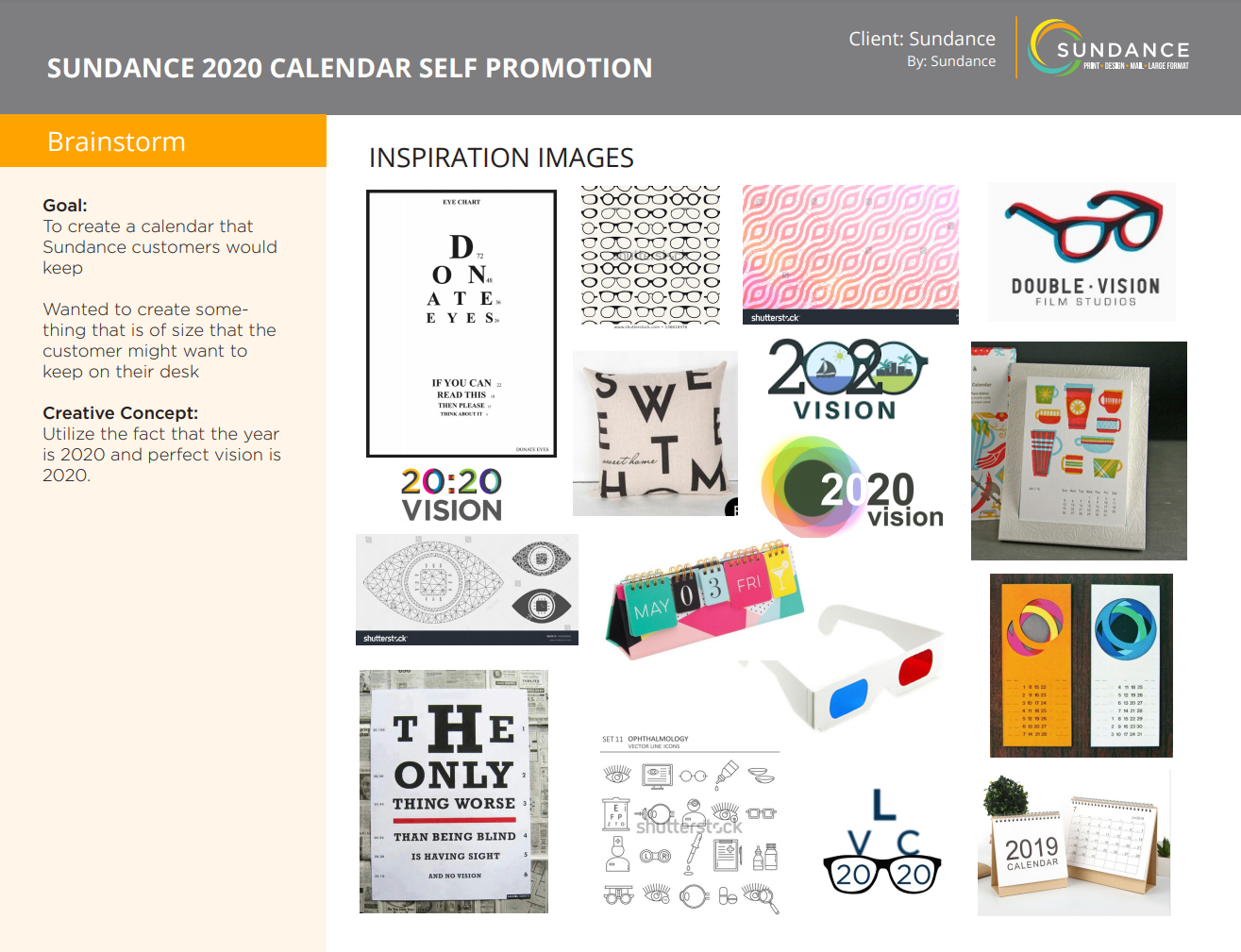 Custom designed and printed calendars are an effective promotional material that not only enhances a brand's image, but also encourages daily interaction from the target audience. Promotional calendars represent the perfect gift to increase brand memorability while providing something useful to recipients.
Before you can receive the benefits of promotional calendars, however, you'll first need to consider the production process that's involved. Let's get started!
1. Brainstorm

When creating a calendar, think about what your customers would actually want to keep. For instance, we decided to go with a calendar size that wasn't too big so customers could easily keep it on their desks.
Here are some brainstorming questions to spark creativity:
Who is the target audience? Demographic?

What does my target audience want?

What are we trying to accomplish with this design?

What's our existing brand (e.g. tone, voice)?

How do we want to communicate our message?
Our latest promotional calendar was for 2020. After kicking around some ideas, we landed on a creative concept that plays with the year 2020 and the fact that perfect vision is 20/20.
2. Creative
Keeping in line with the creative concept, our promotional calendar was titled "A CLEAR VISION FOR 2020." The next thing we did was sketch some designs of a 5" x 5.5" flip calendar that can sit on one's desk. We added a clear overlay onto textured white card stock and incorporated a clear foil eye pattern to convey the concept of clear vision.
Then, we designed each month to be on a separate page and have an eye chart with calendar dates below. We alternated the pages between our four brand colors to make it more visually interesting.
3. Proofs
After designing the calendar, we created digital proofs before it went to production. Digital proofs are crucial for design and printing because they make it easier to prevent and fix issues with the text, images, colors, spacing, and other design elements.
Digital proofs also include important job details like sizes, inks, substrates, and finishes so the press operator knows what to do. Without these print specifications, SunDance wouldn't be able to produce quality results.
4. Printing
Once the proofs are approved, the next step is printing. We used a digital printing press to produce the promotional calendars because of its high-quality resolution and cost-effectiveness for short runs. Digital printing also allows for special finishing options like clear foil overlays and UV inks which we used to create an interesting look and feel for our 2020 calendars.
The final result was a bright, bold calendar with a multi-dimensional effect that any of our customers would be willing to have on their desk.
Promotional Calendars for the Years to Come
SunDance takes a collaborative approach to every project, ensuring your promotional calendar elevates your brand's image and engages the target audience. From brainstorming to printing, we'll guide you through the production process to achieve a high-quality calendar that your customers and prospects will actually want to keep.
Check out the entire calendar production process below!
Call us at 407-734-7444 or request a quote today for promotional calendars!