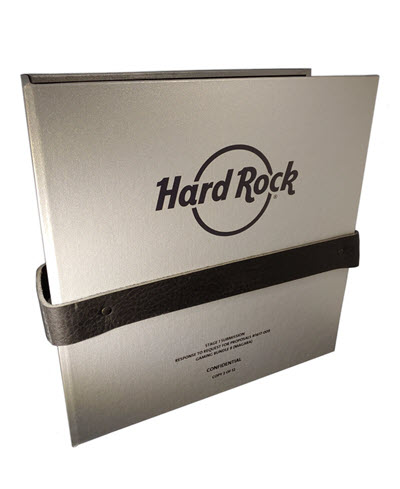 Your marketing materials are a labor of love which is why adding a custom cover can add the perfect finishing touch to make your brand and message stand out. SunDance recently acquired a casemaking machine that allows us to make book hard covers, binders, cases, menus covers, and more. See how custom covers, cases, and binders can be used to add visual appeal to your marketing materials and enhance perceptions of your brand.
A Variety of Options Available
Our semi-automatic casemaker is designed for short and medium runs which makes it perfect for those looking for small quantities or multiple versions. Our machine can bind together three cardboard pieces, which are standard for book and menu covers, or up to five pieces for special jobs. In addition to being able to create covers of different sizes and formats, we can use various materials such as paper, textile, leather, photographic paper, and more to create any look you want.
From cover concept to production, our packaging experts can guide you through the entire process to increase your return on investment. Not only do custom covers protect and identify contents, they can differentiate your brand with unique visual and tactile qualities.
Upgrade Restaurant Menus with Hard Covers
Menus are essential to any restaurant, bar, grill, or bistro which is why they're worth the extra investment. By adding hard covers to your restaurant menus, they'll be able to withstand repeated uses while impressing customers with their high-end appearance. With unique materials and specialty finishes available, your menu will reflect your restaurant's personality and assure customers they're dining at a respected establishment.
Make Your Marketing Materials Look More Polished
The phrase "don't judge a book by it's cover" doesn't apply when it comes to marketing and branding. Covers, cases, and binders will be the first thing people will notice about your brand when they're handed your book, menu, portfolio, etc. Their design and materials can communicate a lot about a brand before they're even opened to reveal the contents. Give your brand a polished, professional look by using custom covers for your marketing materials.
Orlando Book and Menu Cover Making
SunDance is always looking for new ways to create print and marketing solutions for our customers to increase the impact of their brand and marketing materials. With custom covers available in different sizes and styles, your business will be able to create a more memorable brand experience than what a plain cover could ever achieve. Contact SunDance today to see how custom covers can enhance the look and performance of your marketing materials!