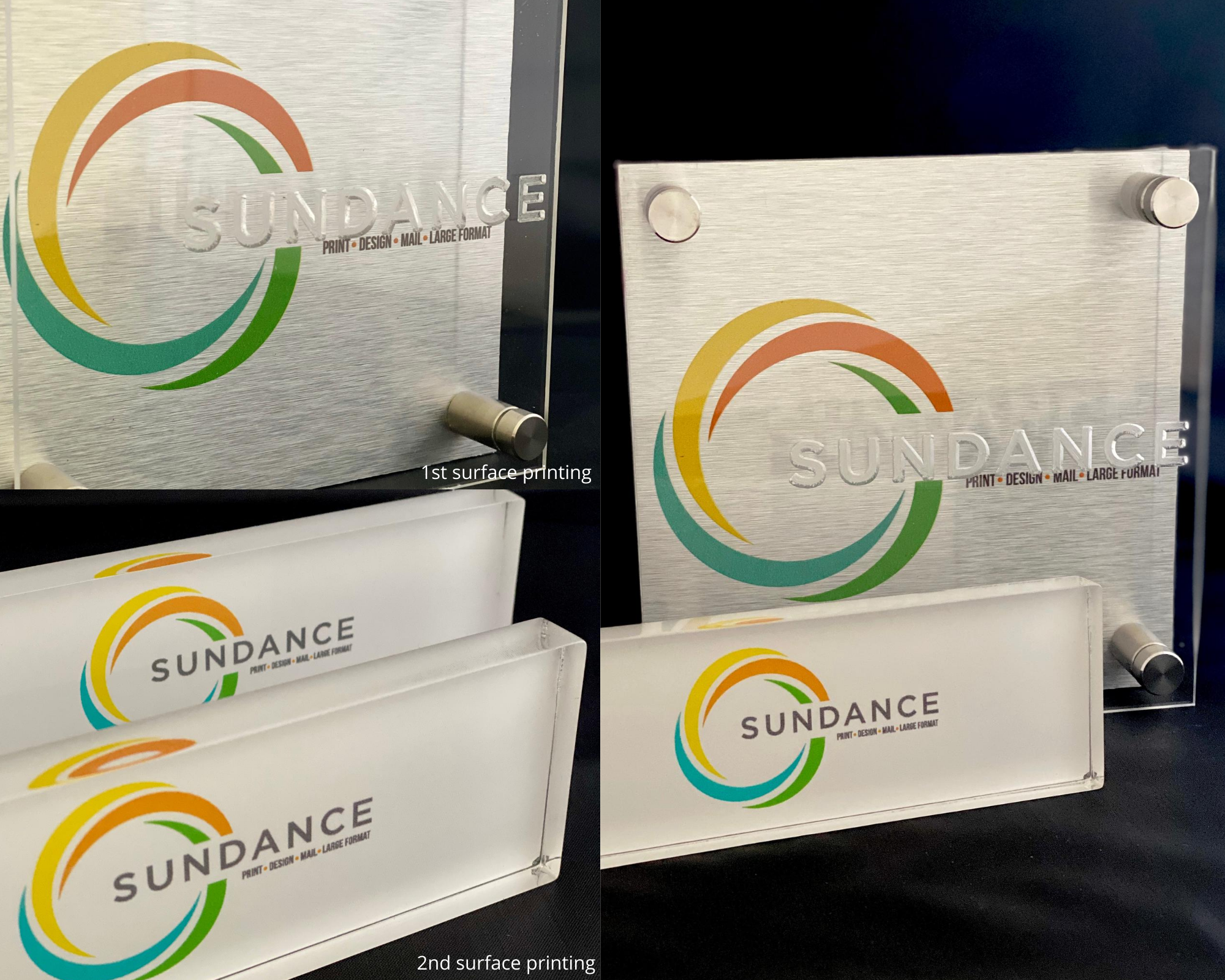 SunDance is all about making brands look their best which is why we offer 3D effect printing like 1st surface and 2nd surface printing for signs, awards, plaques, and other promotional materials. Whether you're looking for a memorable business sign or an award fit for an executive, SunDance's 3D effect printing is sure to enhance the look of your printed item by adding visual interest and dimension. Learn more about 1st surface and 2nd surface printing to see how 3D effect printing can elevate your brand's image.
1st Surface Printing
Most printing is technically "1st surface," this makes sense as poster and labels only have one visible side. This printing option can be used with opaque or clear materials depending on the look you want to achieve. Its timeless style will make your brand, artwork, or message front and center on the printed item.
2nd Surface Printing
With transparent materials, 2nd surface printing is possible and great for creating an eye-catching detail on your sign, display, plaque, etc. The ink is applied to the back surface so when end-users look at the printed item, they'll see the printed artwork through the material. Printing on the 2nd surface also adds a layer of protection from UV and weather exposure. By incorporating a multi-dimensional element, printed items look more elegant and modern, increasing brand memorability.
White

Underprinting
When printing on clear materials like acrylic, film, and vinyl, it's important to know which surface should be printed on and whether white underprinting is needed depending on the design. White underprinting is where white ink is first applied and the colored inks are applied on top to increase opacity. Printing on white paper or film doesn't require white underprinting because there's already white behind the inks. Essentially, white underprinting is like a primer to ensure your colors and details are vibrant and crisp. Without it, the inks will appear transparent on the clear material.
Enhance Your Brand with 3D Effect Printing
How prospects and customers perceive your brand can either grow or stunt your business which is why SunDance offers a variety of printing services like 1st surface and 2nd surface printing to ensure your signs, awards, plaques, and displays enhance your brand's image. Our team will guide you through research, development, design, and printing to produce finished results that will increase the perceived value of your brand.
Call us at 407-734-7444 or request a quote today to see how 3D effect printing can benefit your business!