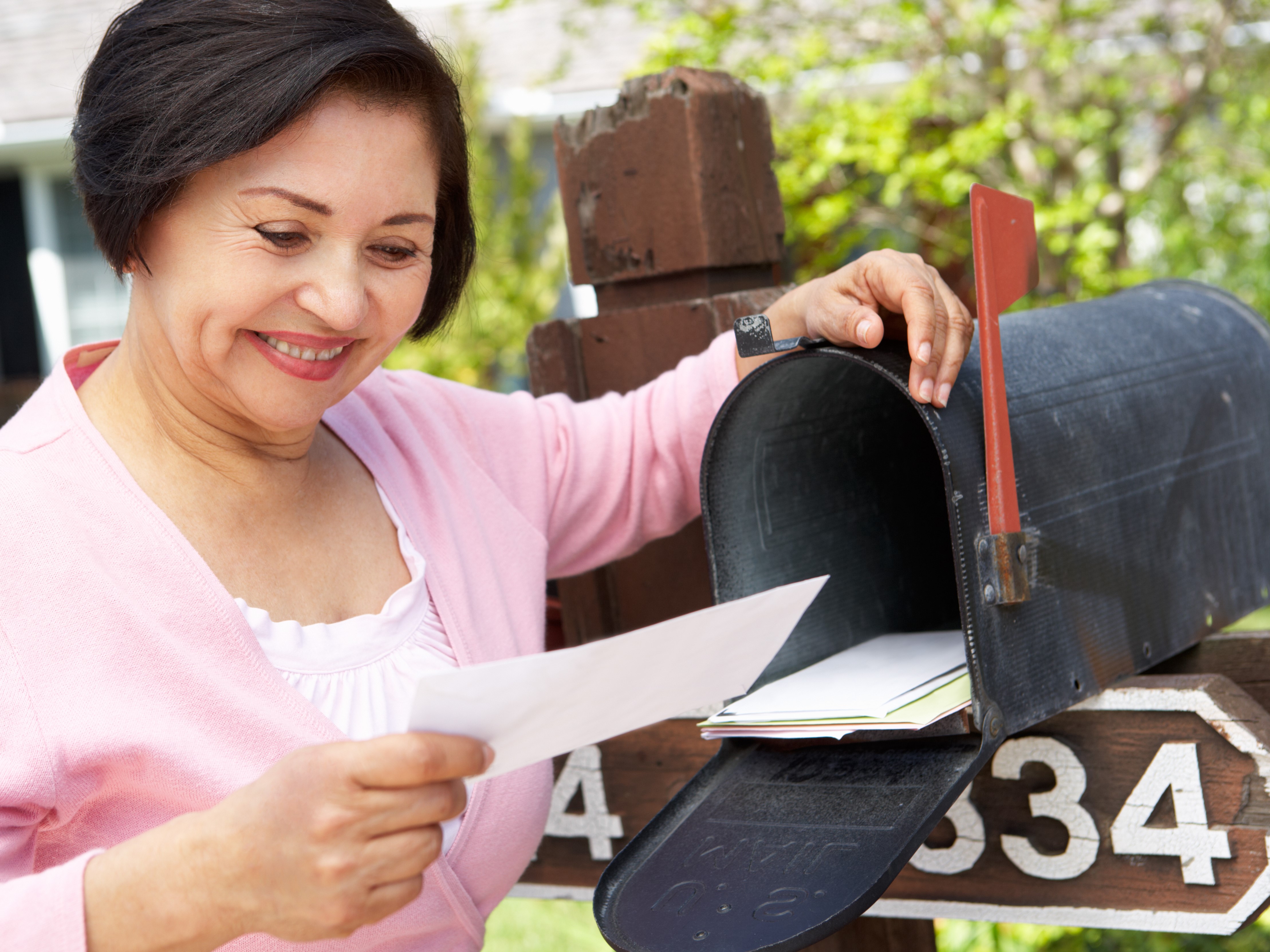 While both direct mail and email campaigns resonate with specific audiences and yield results for marketers, direct mail continues to outperform email in most cases. Direct mail averages a 4.4% response rate compared to email's .012% response rate, according to research by the Direct Marketing Association. And while email may get there faster than direct mail, recipients can unsubscribe from your emails with the click of a mouse—which makes direct mail more durable.
Marketing programs that incorporate both direct mail and email are more robust than single-channel programs, but it is especially important for marketers to understand how to customize direct mail campaigns by age group.
The United States Postal Service has conducted extensive studies on the subject, and other sources offer insights as well.
Four Consumer Age Groups
Product marketers today have access to four generations of consumers and potential buyers of their goods and services: Boomers, Gen X, Millennials, and Gen Z. Each generation has distinct preferences in how they receive and respond to mail messaging from marketers. There are also a few commonalities across generations. Well-informed marketers can leverage these preferences and customize their direct mail campaigns by age group to enhance their messaging, strengthen consumer engagement, and increase sales.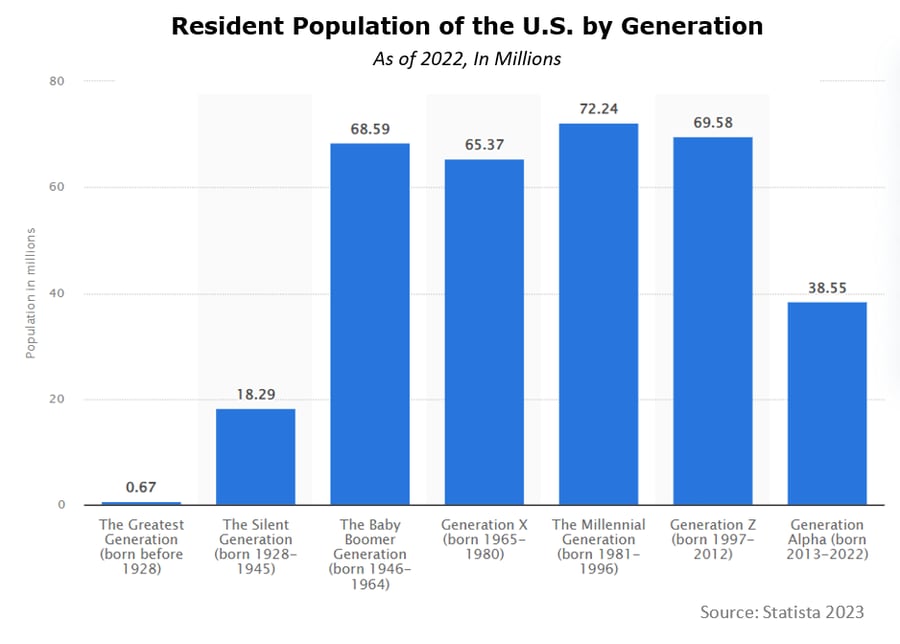 Marketing to Boomers
Born in the post-World War II baby boom between 1946 and 1964, Boomers are currently aged 59 to 77. Although the oldest are 77 this year (in 2023), most are still actively working, with only 18% fully retired, according to Pew Research Center data.
Boomers make up more than 21% of the U.S. population, according to Statista. They spend more than other consumers in almost every product category, and wield 70% of the disposable income in the U.S.
While 85% of Boomers use the internet, 50% prefer to read promotional communications and offers in direct mail pieces rather than in email (44%). Over 70% say that direct mail feels more personal than electronic communication, and 57% would not appreciate no longer receiving information via direct mail. When marketing to this generation, avoid promoting your products via apps or texts, as only 3% favor these communication methods, respectively, and only 1% are interested in receiving pop-up offers.
Here are some other insights:
Boomers are less likely than younger generations to care about design elements in direct mail pieces. They are more focused on the offer or promotional deal.

Boomers are 22% more likely to find new products or services through catalogs.

Boomers

care about recycling

and recycle as much as possible—23% more than all other generations combined.
Boomers surveyed by the USPS also said that they trust direct mail pieces more than they trust digital communications, an insight that should drive your messaging past earning their trust in favor of earning their interest and response.
Marketing to Generation X
Generation X, born between 1965 and 1980, are currently 43 to 58 years old. Gen Xers comprise slightly more than 19% of the U.S. population, at 65 million individuals, according to Statista. An article at SmartAsset.com indicates that Gen X outspends Millennials by 41% and outspends Boomers by 18%.
Gen Xers watch an average of 32 hours of TV per week and 70% of them watch videos on YouTube and elsewhere. Marketers should create videos to showcase products or services in a creative, personal way, using real-world stories.
Like their parents, 71% of Gen Xers feel that direct mail is more personal than email, according to the USPS survey. In addition:
Gen X is more likely to read promotional direct mail than promotional emails.

They have very limited interest in receiving deals via apps or texts.

They feel emails from retailers come too frequently.

They send emails to spam or delete them quickly, unless they are looking for an offer on a certain product or service.
Because this generation can be harder to reach via traditional broadcast media, direct mail may provide a more effective way to reach them. In designing direct mail, USPS survey data suggests using less clutter, simple messaging, eye-catching colors, unique shapes, and surprise elements like special gifts. And be sure to add a simplified URL for your latest product video.
Marketing to Millennials
Generation Y, commonly known as Millennials, were born between 1981 and 1996 and are currently 27 to 42 years of age.
Millennials make up nearly 22% of the U.S. population, at more than 72 million Americans, according to Statista. In 2019, this generation surpassed Boomers as the largest living adult population, as illustrated by this Pew Research Center chart.
Nearly 100% of Millennials use the internet. And unlike Boomers and Gen Xers, Millennials:
Have a decided preference for email (49%) over direct mail (32%) as a vehicle for promotional deals.

They are more likely to prefer app-based offers (8%) than other generations.

Of all the age groups, they are the most interested in interactive innovations such as QR codes, augmented reality (AR), and virtual reality (VR) features.
Despite their preference for email promotions, Millennials are favorably disposed toward direct mail for several reasons, saying that it (1) supplies useful information, (2) keeps them up to date on products and services, and (3) feels more secure than email. However, bear in mind that they have limited attention spans (as do Gen Z) so keep messaging concise, with short sentences and words.
Millennials place importance on authentic brand messaging and 75% say they prefer brands who support social and environmental causes or other causes close to their hearts.
Consumer and user reviews are important to this generation, and they seek out others' experiences with a product or service before they buy. Personal stories capture their attention faster than traditional advertisements, and marketers should design direct mail campaigns for this age group with that in mind.
Marketing to Generation Z
The youngest generation of consumers, Generation Z, were born between 1997 and 2012 and are currently 11 to 26, so not all are active buyers quite yet.
45% of this generation say that a brand appearing trustworthy and transparent is a substantial motivating factor for engagement. Rather than selling to Gen Z, share your brand's story and create content that clearly describes and illustrates your company's values.
As with Millennials, one of the biggest challenges in marketing to Gen Z is their short attention spans, so it's important to use concise messaging, short words, and short sentences.

The vast majority of Gen Zers (81%) prefer

personalized communications

, including ads, compared to 57% of Millennials and 42% of Boomers.
The Generation Z affinity for technology has not lured them away from physical mail. Direct mail has a unique ability to appeal to their creative side by giving them the personalized, tangible experience that texts and email can't provide.
Surprisingly, although this young generation virtually lives online—or perhaps because of it—they have little interest in receiving discounts and product information via texts, apps, or pop-up deals.
Direct Mail Innovation at Your Fingertips
Creating direct mail campaigns by age group is a more targeted approach to product marketing and promises greater resonance with each audience. SunDance is a leader in providing direct mail services that get results, including strategic campaign expertise, in-house production of a wide range of direct mail materials, and mailing list management—all delivered with our legendary commitment to quality control, timeliness, and cost-effectiveness. At SunDance, you can choose from a stunning array of printing, finishing, and packaging options guaranteed to spotlight your messages and your products. Explore all the exciting things you can do with direct mail services from SunDance.