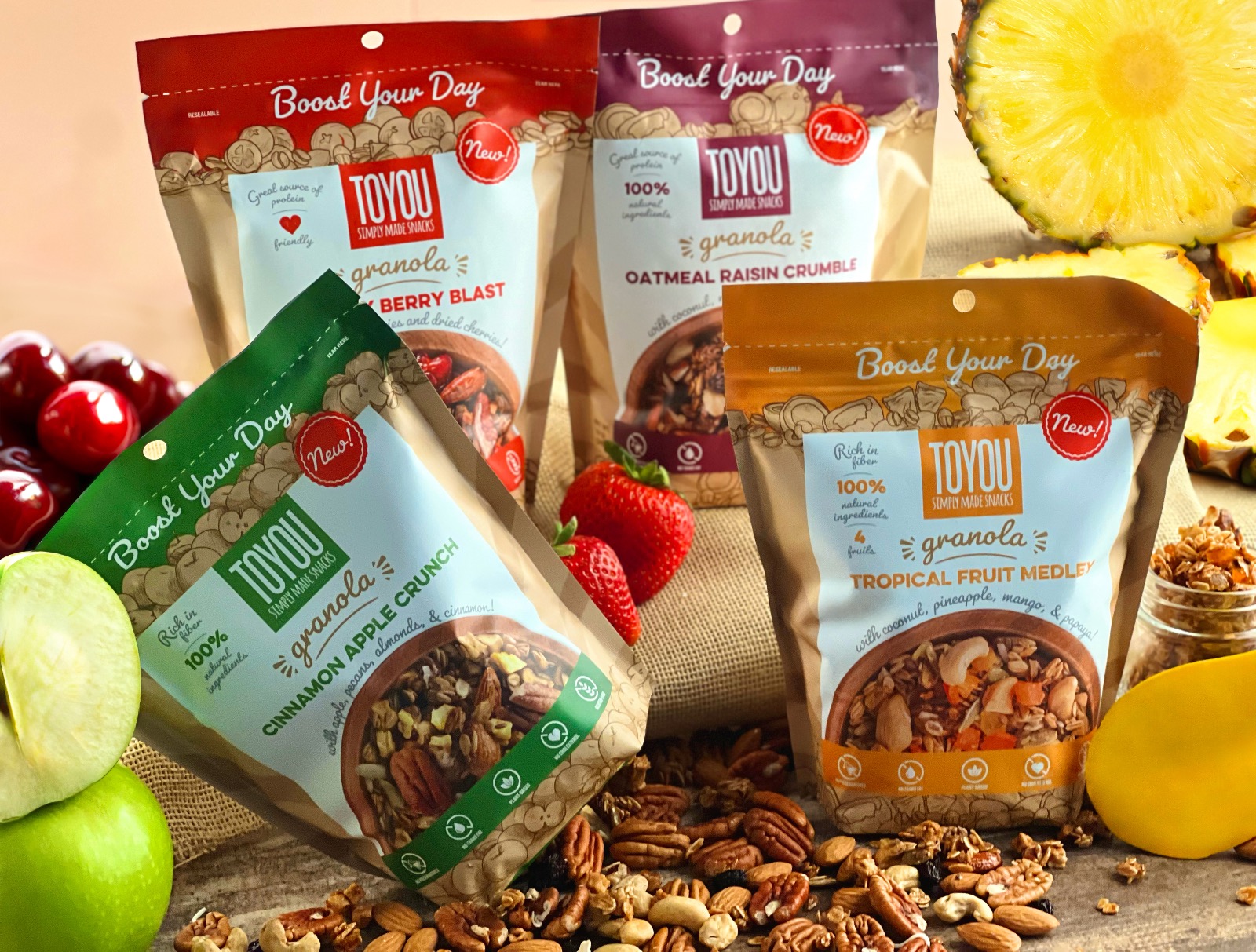 In the world of snacking, finding the perfect balance between taste and nutrition can be quite a challenge. But that's precisely what ToYou Snacks has achieved. This remarkable brand has been on a mission to provide the best-tasting snacks that satisfy your cravings and benefit your daily nutrition. With a wide variety of bars and granolas, ToYou Snacks has captured the hearts and taste buds of many health-conscious snackers.
We had the opportunity to speak with Diego Font, Vice President and Expansion Strategist for ToYou Snacks, to learn more about their snack company, why they chose to partner with SunDance, and the incredible achievements they have made since choosing SunDance as their custom packaging provider.
A Nutritious Vision
"At ToYou Snacks, we strive to provide the best-tasting snacks that benefit your daily nutrition. With a large variety of bars and granolas, we encourage everyone to try us and follow us," says Diego, describing their vision. It's evident that ToYou Snacks places a strong emphasis on both taste and health, making their products stand out in a sea of conventional snacks. ToYou Snacks offers a range of exciting granola flavors, such as Cherry Berry Blast and Tropical Fruit Melody, which requires packaging that reflects the lively and vibrant nature of the brand. Their commitment to providing wholesome snacks that delight the taste buds while nourishing the body truly sets them apart in the competitive snack industry, and their packaging helps them to display just that.
The Partnership with SunDance
When asked about the reasons behind partnering with SunDance for their packaging needs, Diego shares, "By partnering with Sundance, we have been able to become personal with the products we develop due to the key relationships we have built within Sundance." This statement highlights the importance of collaboration and personalized service that SunDance provides to its clients. ToYou Snacks partnered with the SunDance team to develop flexible stand-up pouches for their range of granolas, and custom cartons to hold their Popeye's Snack Bars. Working closely with packaging expert, Steve Kirchof, the ToYou Snacks team took their packaging from concept to completion, with products available now in stores and online.
Seeking Exposure and Recognition
ToYou Snacks was looking to gain exposure in new markets, particularly within the food/beverage and packaging industries. "We hope to expose ToYou Snacks to new sets of eyes, especially those within the food/beverage and packaging industries. This will allow our name to be better known," says Diego. SunDance's expertise in custom packaging design has undoubtedly played a crucial role in helping ToYou Snacks stand out on the shelves and attract more customers.
Achievements and Success
Since partnering with SunDance, ToYou Snacks has achieved remarkable success. "We have gotten amazing feedback from both our Popeye theme bar boxes and our granola has been widely praised for its texture and attractive colors," shares Diego proudly. This shows the impact of creative packaging design on customer engagement and how it can turn ordinary products into eye-catching and memorable experiences.
Why Partner with SunDance?
When asked why he would recommend SunDance to someone, Diego's response is simple yet powerful, "The quality of the goods produced and the quality of the people who want to help you succeed." At SunDance, we not only deliver top-notch custom packaging solutions but also value the success and growth of our clients.
ToYou Snacks has proven to be a trailblazer in the snack industry, offering delicious and nutritious options to health-conscious consumers. The partnership with SunDance has not only elevated their products but also allowed them to reach new heights in terms of exposure and recognition.
If you're looking for tasty snacks that are good for your health and come in creative and attractive packaging, ToYou Snacks is the brand to try. And if you're a company seeking top-tier custom packaging solutions and a partner that genuinely cares about your success, SunDance is the perfect choice. So, the next time you're on the lookout for a healthy and satisfying snack, remember the name ToYou Snacks because they truly bring the "to you" factor in every bite.
Looking for a print partner who cares about your success?