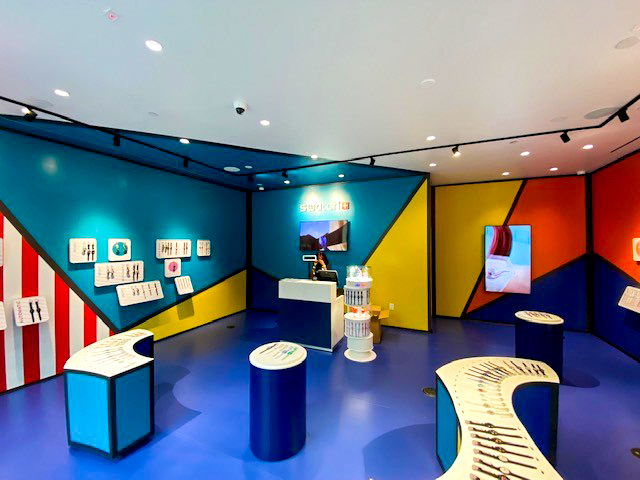 Pop-up stores are an exciting blend of flexibility and creativity in the retail world. A unique mix of social marketing and traditional brick-and-mortar storefronts, these retail spaces offer customers a unique and immersive experience. Their temporary nature allows for risk-free experimentation and flexibility, a boon for emerging brands or companies who want to test new concepts or markets. The beauty of these pop-up spaces lies in their flexibility, as they can be set up anywhere from traditional retail spaces to more unconventional locations like staircases or lofts.
Pop-Up Retail Solutions
The temporary nature of wide-format materials – designed to be installed for days or months without damaging walls and floors - allows for big, out-of-the-box (literally!) thinking without causing damage to structures or the need for costly modifications to existing buildings.
Wide format media, such as PSA (pressure sensitive adhesive) backed vinyl and wallcoverings, can be used to completely transform walls with printed and textured designs. Window clings allow for instant customized signage, and floor decals offer an immediate way of marking off space for a special event or area. 3 dimensional printed structures made from foam core, corrugated cardboard, boxboard, Sintra, or other materials can be completely custom printed and cut to fit whatever you might need – whether it be a prop, temporary display stand, tabletop display, or any other eye-catching item that promotes your brand.
Swatch Pop-up Store at Lenox Square in Atlanta, Georgia
Swatch recently came to our team at SunDance to assist with creating a pop-up retail store for their location in the Lenox Square Mall in Atlanta, Georgia. Using a mixture of wall coverings and printed vinyl, we were able to help Swatch completely transform a vacant retail space into an eye-catching temporary pop-up store.
They utilized printed designs and wraps to completely transform the floors, walls, and ceiling of an otherwise unremarkable space into a vibrant, colorful, and eye-catching display to excite customers and create early brand recognition. Once Swatch moves into its permanent space, the removable vinyl allow the pop-up store to be easily and quickly disassembled without any damage to the walls, floors, or ceilings, allowing the space to be ready for the next tenant.
Endless Opportunities with Temporary Retail Spaces
In addition to Swatch, there are many other businesses that could benefit from implementing a temporary pop-up retail store. A clothing brand targeting people in their teens and twenties could use this retail format to showcase a new collection on a college campus in a unique and immersive way. By setting up a pop-up store, brands can create a temporary space where new customers can experience their products firsthand. Another great example is a food and beverage company that wants to introduce a new product or concept to the market. A pop-up store would allow them to create a temporary space where they can offer samples, host tastings, and engage with customers directly. By creating a temporary retail space, businesses can generate buzz, gather valuable feedback, and potentially drive sales.
Our team at SunDance has years of experience with Environmental Interior Design. From concept to completion, our team can assist with producing the most eye-catching retail spaces. The possibilities are endless when it comes to pop-up stores and the benefits they can bring to a variety of businesses!
To learn more about how SunDance can help you create your perfect pop-up store, click here.