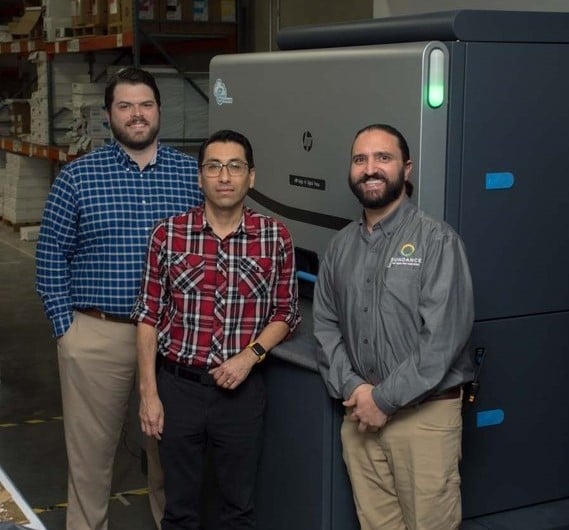 At SunDance, our mission is to offer customers an extensive portfolio of print products and services to make their brand stand out, which is why we recently purchased an HP Indigo 6 Digital Press to print custom labels and flexible packaging. We're excited to partner with this industry leader in digital printing technology as HP is known for its print quality, productivity, and versatility. Learn more about the benefits and uses of digital printing to see how it can help your business grow.
Digital Printing Benefits
Digitally printing offers a variety of benefits such as unlimited designs, a wider color gamut, and specialty finishes like soft-touch lamination and 3D UV coatings to achieve a unique look and feel. Additionally, the HP digital press can print on many types of materials such as:
White BOPP film

Metallic BOPP

Clear BOPP film

Semi-gloss white paper

Estate paper (wine/craft beverages)

Direct thermal/thermal transfer paper
The HP digital press also has variable data printing capabilities that can be used for variable data (like names, addresses, or numbers), variable images, and QR codes as part of a security solution or track-and-trace program. Variable data printing is perfect for creating a personalized marketing campaign or running a targeted promotion for a specific audience, market, or region.
Labels and Flexible Packaging Capabilities
Digital printing is a versatile and cost-effective method for printing smaller quantities of labels, commonly known as 'short run' labels. Printing short runs are ideal for brands that need labels for multiple design versions, languages, product lines, testing, and more. Traditional printing methods like flexographic and offset often have minimum order requirements whereas digital printing allows customers to order only what they need.
The HP digital press can also print flexible packaging, a popular type of packaging that is flexible, durable, and portable. Flexible packaging works with various product types such as pills, bars, gels, powders, and creams thanks to its air-tight seal that protects product contents. SunDance offers different types of flexible packaging such as:
Sachets/Packets

Wrappers

Pouches

Bags

Flex sticks/Stick Packs

Envelopes
Depending on your project, we'll digitally print your labels or flexible packaging on paper, film, or foil to achieve your goal. Let our team know your requirements so we can help you select the right combination of materials.
Switch to Digital Printing Today
SunDance is an award-winning printing and design company in Orlando, Florida that helps brands stand out with promotional products like labels, flexible packaging, signage, displays, and more. With the new digital printing press, we'll be able to increase production capacity, reduce setup costs, and decrease turnaround times for a higher quality of print products and service. Call us at 407-734-7444 or request a quote today for digital printing services!